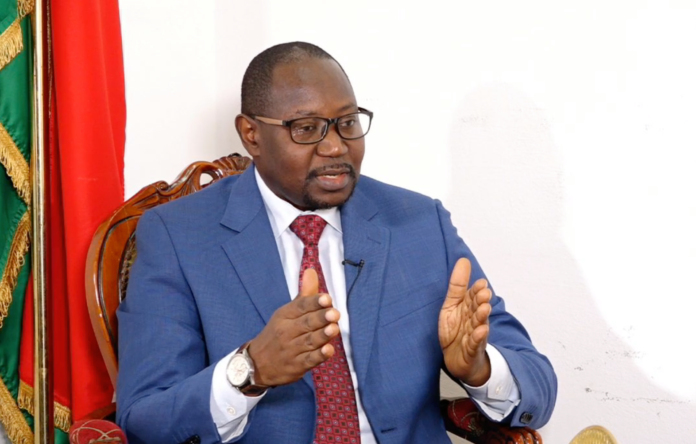 GMC leader Mai Fatty has burrowed deep into events that unfolded in Dakar, Senegal four years ago amid a bitter political impasse that gripped the nation.
Then president-elect Adama Barrow briefly stayed in Senegal after flying out to Mali as then-President Yahya Jammeh refused to cede power following the December 1, 2016 presidential election which he lost. President Barrow was then four years ago today sworn into office at the Gambian embassy in Dakar.
Mai Fatty today took a trip back to the events that happened in Dakar baring how he invited top lawyer Sheriff Tambadou to swear in President Barrow.
He said: "After leading series of successful Regional diplomacy, in coordination with ECOWAS, the AU & UNOWAS, here is the culmination. Four years ago, having convinced both the Senegalese and the international community to conduct the Swearing-in-ceremony on Gambian soil in the Republic of Senegal, the will of sovereign voters was ultimately enforced. Having thoroughly researched the law, and did additional consultations, and advised President-elect Barrow on the legal implications,
"I contacted and invited Mr. Sheriff Tambadou, then President of the Bar Association, to administer the Oath at the ceremony in Dakar. Under the directives of the new President, I turned my attention to my first and most important official duty: the repatriation of almost fifty thousand temporary Gambian refugees in Senegal.
"I am proud to have officially successfully led the biggest repatriation of nationals in the history of The Gambia. While in Dakar, I directed former Ports MD Baboucarr Sanyang to conduct uninterrupted ferry service without fail to get nationals across the river bank. That directive was implemented, as I remained in close contact with Mr Sanyang to monitor implementation. From Dakar, I had also directed the then MD of GTSC Mr. Habib Drammeh to put into immediate operation all of the assets of the company towards the comprehensive repatriation of nationals from Senegal and internally displaced persons on both sides of the River Gambia. That was complied with, as I remained in close contact with Mr. Drammeh to monitor implementation. I directed the border authorities, Fire and Rescue Services to work with volunteers to ease passage for returnees. That was implemented as I required officials of Gambia High Commission in Senegal to assure smooth operations, with their counterparts at home.
"By this time, we did not obtain either the support or the active cooperation of The Gambia Police Force, NIA or The Gambia Armed Forces. Yet they would have been incapacitated from hindering the massive operation, with the imminence of the Nigerian Navy within launching distance from our shores and the rapid mobilization of ECOWAS ground forces from Senegal into The Gambia.
"I am grateful to Mr. Alassan Senghore of the International Red Cross who worked with me very closely in Dakar, to facilitate humanitarian intervention, Senegalese authorities and Gambian volunteers such as Killa Ace, Aji Daffeh, etc, who worked closely with me during this difficult and sensitive period. Thank you to all those who helped in any way possible.
While this was going on, simultaneously, I was coordinating with the international community on essential aspects of military intervention to forcibly remove Jammeh out from State House.
"Later, at an international press conference in Terrubi from Dakar, I warned Jammeh directly to immediately quit power or choose one of two options: capture and imprisonment or ultimate termination. He chose to flee out of the country that night to Equatorial Guinea in exile, where he still resides. It was the most sleepless and exhausting experience in my entire life. Am truly grateful to Adama Barrow for the trust and for this rare opportunity to serve my country at its hour of greatest vulnerability and existential threat. I kept President Barrow fully briefed of the entire situation, while he was busy receiving official delegations. The Gambia is worth it, and you Gambians deserved it."