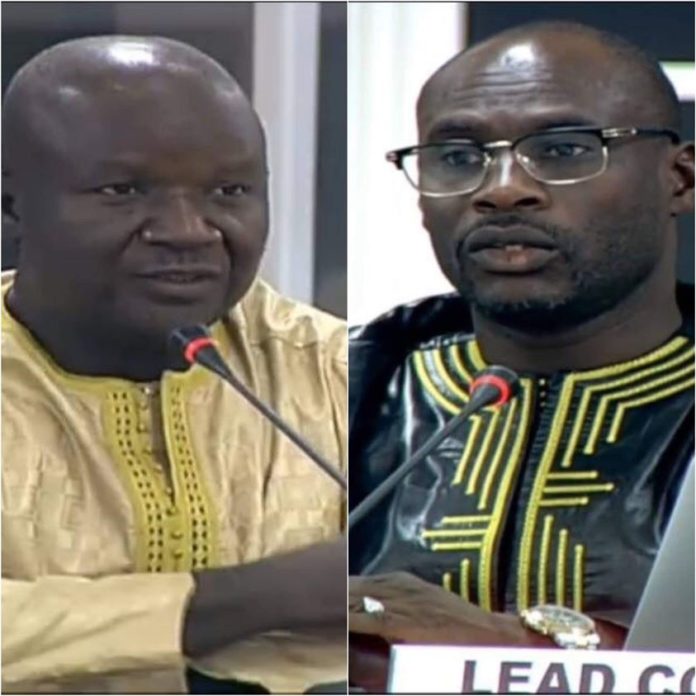 By Lamin Njie
Former army chief Babucarr Jatta has slammed TRRC counsel Essa Faal, saying the popular lawyer doesn't understand military matters.
Jatta and Faal were on Thursday involved in a testy exchange as the former army chief gave evidence regarding the events of November 11, 1994.
It all began after the screening of the testimony of three witnesses who claim to have been present when a group of soldiers were lined for execution at Fajara Barracks. The witnesses claimed Jatta was part of an extended line of soldiers who were to shoot the captured soldiers.
And tempers flared after Counsel Faal asked Jatta whether all three witnesses were lying.
Jatta told Faal: "Why should I relinquish myself to tell you that I'm not doing the right thing, am trying to dodge I will never do that. I'm a very sincere person.
"Listen, please allow me to land, you're cutting me off and you cut me off, I'm going to start doing something different. We will never agree. You either trust what I say or you take what you have to say. I'm telling you the first shooting on the ground, when Sabally was [shooting] I came running telling him, 'stop it.'
"And I met them there before he starts shooting. I wouldn't relinquish my moral authority for the sake of somebody. Now you're telling me, I'm still in charge but you got to know that appointment has precedence over rank. Just understand that. Sabally is a No 2 person and that time when he gives you order you will be running."
Counsel Faal at this pointed responded by saying, "Babucarr let us not digress…."
But as the chairman of the commission tried to restore sanity, Jatta brutally reviewed Faal telling him, "You don't understand military matters. You're just guessing."
The chairman of the commission at this point said: "I was just hoping I don't have to use the gavel. This is the first time I'm using it in the middle of proceedings. Can we go slowly and gently. If you have any statements to make that opportunity would come. Counsel would definitely give you time if you need to explain something."
Counsel Faal then said: "Mr Jatta, maybe I will have to disappoint you. I understand the whole law about command responsibility and how soldiers are organised. My specialisation is the law of war. I worked on war crimes, I work on crimes against humanity. But I would not take offence for what you have said."