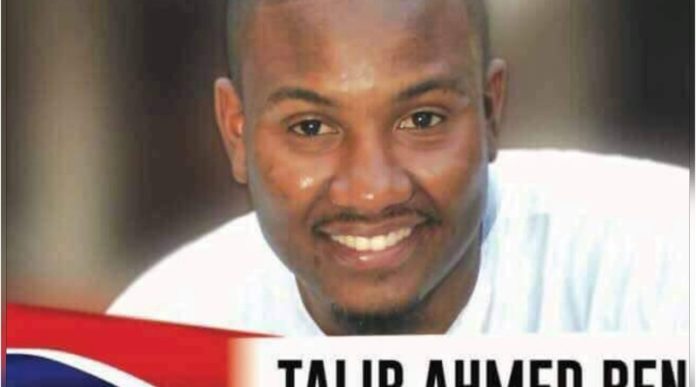 By Arfang M.S Camara
Talib Ahmed Bensouda has denied buying votes during the United Democratic Party (UDP) Mayoral primaries held on February 17, 2018, at the UDP Political Bureau in Manjai Kunda.
It is alleged that the winner, Talib Bensouda bought votes which made him the party's flag-bearer for the UDP for the upcoming KMC Mayoral election scheduled for May 12, 2018.
In an exclusive interview with The Fatu Network at his office on Friday, Talib denied the allegations.
He added, the truth about politics is that politicians will do whatever they can to beat and smear their opponent's character as well as demonize them adding that it is normal in politics that people will create stories to turn supporters against their favorite candidates.
"If you see people doing that, it means their opponent is the leader in terms of opinion polls. We ran a very effective and structured campaign in which people fear our ability and this is why they smearing us with rumors".
He added "I have heard many allegations from other camps but I never jump on them because I know they are mere allegations". He added
Commenting on the petition allegedly filed by the Mustapha Touray's camp, he said that the petition was not done during or before the election but rather after losing the elections which was a fair and transparent one
"The process leading to the elections was free and fair, we all had our polling agents present, and the media was also present during the time of the process. In fact everybody (including agents and candidate) said that they were satisfied". He added that some may have been disappointed with the results and are trying to find reasons to delegitimize the elections.
He said there were 141 delegates chosen by members of their communities. The process he added was supervised by constituency chairmen and parliamentarians in their various areas, revealing that there was no way that any camp could have manipulated the results.
According to him, the only reason he is interested in politics is  to develop the country, adding that being a successful businessman who employed 40 staff many of whom are paid more than the mayor of KMC, he feels he could make a huge difference.
He buttressed that he has no intention of going into KMC just to have a position or salary but to rather develop the Municipality.
" I have always had a passion for public service, it is very important especially for the young and educated so as to give back and help develop the country"
Revealing his plans and agenda, the UDP KMC mayoral flag-bearer noted that the reason KMC is not delivering as expected is because they don't have the capacity, cooperate governance, accountability and checks and balances, noting that one must first look at restructuring the municipality, bringing in capacity, introducing structures and cooperate governance so that the institution will be stronger.
The established businessman cum mayoral candidate stated that KMC's budget of D90 million is too small to take care of the needs of 450, 000 residents, 21 markets as well as taking care of waste management, noting that he believes that the KMC budget can be increased to a billion dalasi so as to tackle all the loopholes in the area.
He added that many are happy with the current budget without knowing that it won't do much for KMC.
"As a businessman and an economist, I believe that a billion dalasi budget will make a huge difference in developing KMC" He said.
He advised Gambians not to vote based on tribe or friendship but rather vote for competent candidates who can bring about change that Gambians are yarning for.
He finally called on UDP supporters to come together and unite for the upcoming elections so that their goals and aspiration can be tackled, adding that both him and Mustapha Touray are very good and close friends and that politics cannot divide their friendship.