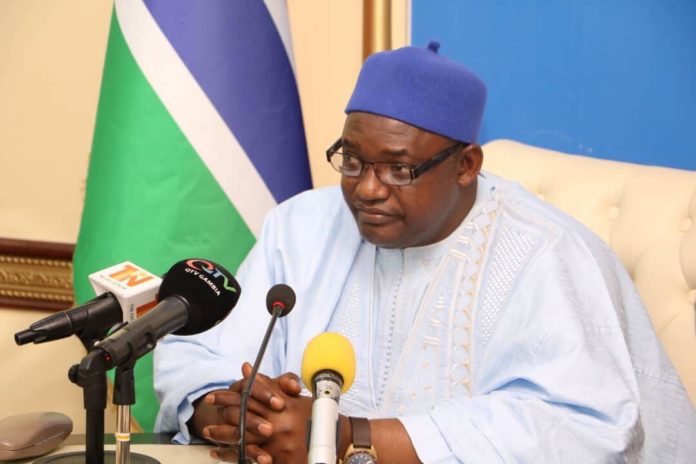 The newly appointed Inspector General of Police (IGP) Mamudou Jobe together with his team paid a courtesy call on President Adama Barrow on Friday at State House, Banjul.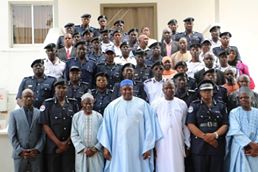 The new IGP Jobe whose former boss Landing Kinteh resigned after the Faraba incident said the forum is historic for it has never happened in the country for over 30 years. He called Commissioner Omar Darboe to highlight some of the constraints facing the police force.
"We the police have been neglected for 30 years," Commissioner Omar Darboe said.
Commissioner Darboe spoke about the lack of communication material, touring vehicles and salary increment as part of the constraints facing the force. He also spoke about lack of human resources and police protection amongst others.
President Barrow commended the police delegation, saying the meeting is very important but also explained his surprise that such meeting has not happened for 37 years. He added that the police is very important institution for nation building.
President Barrow advised the police command to maintain discipline and good conduct within the police force.
"Leadership is a shared responsibility," President Barrow told the police.
Barrow emphasized that the diversity of the country should be a strength, saying that the common factor that binds them is that they are all Gambian citizens.
"Everybody is equal as far as the new Gambia is concerned," he said.
"Security is paramount in nation building," he added.
President Barrow called on Gambians to respect the rule of law and protect patriotism. He said people should not misinterpret democracy to disrespect other people's rights.
"No one should take the law into their own hands"
The Gambian leader also told the security command to protect the new found democracy and nurture it.
"We cannot reverse to the old way of doing things otherwise it will defeat the purpose of the change we achieved," he said.
He revealed the discussions his government has made with the Saudi authorities that they would start partnering with the Saudi police. He added that the Gambian police high command will be traveling there.
Ousainou Darboe, the new Vice President also advice the police to remained apolitical and refrain from tribalism.
"Your loyalty should be to the state," VP Darboe said.
Meanwhile, he warned them to refrain from taking sides and to remain neutral.