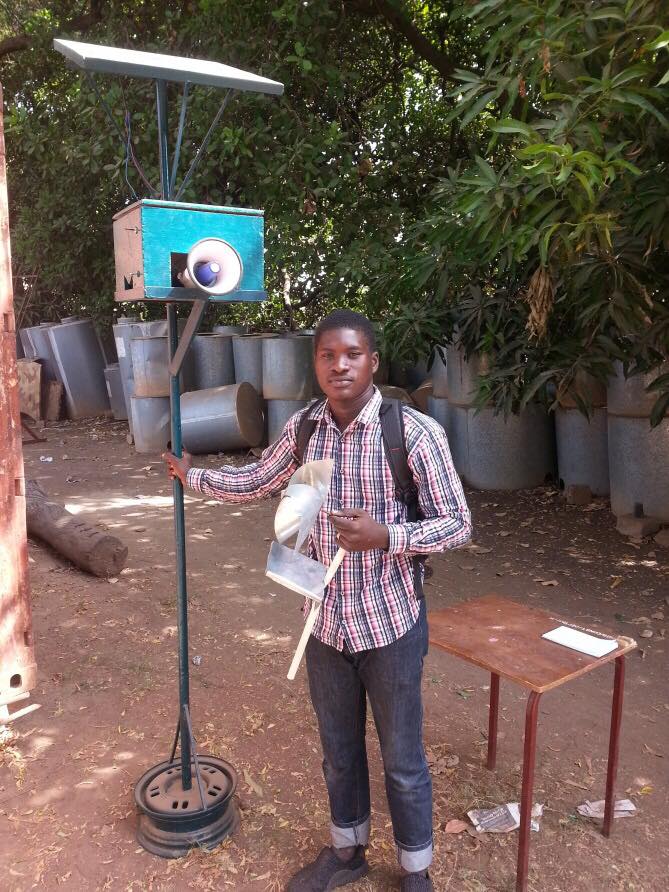 By Omar Wally
A mechanical engineering student at The Gambia Technical Training Institute (GTTI), has invented a Pest Bird Control Device meant to help farmers get rid of birds.
The device, a Solar Powered Audible Bird Scarer and a mechanical Bird Scarer is designed to control pest bird invasions and is said to be effective in scaring birds away from farms.
In an interview with The Fatu Network, Wally Saine, the inventor said he recently completed a diploma in mechanical engineering. He added that as an Engineering student, he was required to work on a project for his Diploma, during his final year at GTTI.
" I decided to make a device that will help farmers in the Gambia control pest bird invasions especially those who practice small scale farming since most of them are unable to afford modern bird scaring machines."
Saine said the Solar Powered Audible Bird Scarer emits a predator's sound that would scare the birds away.
He added that the Mechanical Bird Scarer, which is less expensive and easily affordable, is driven by wind and as the wind drives it, it emits a sound disturbing the birds and eventually leading to their dispersal from that area.
Saine said both devices were tested and the results are positive, rice farmers are happy to see the birds being driven away by the device.
He called on the government to help farmers by providing them with bird scaring devices such as, the ones he invented, adding that it will eventually enhance food sustainability in the country and encourage farmers to cultivate more hectares of land.
'I request for the government to support the Engineering students in The Gambia, since many of them have great ideas but are unable to due to financial constraints.'
Saine: I'm appealing to government to help me further my education at least to the level of a degree in engineering.