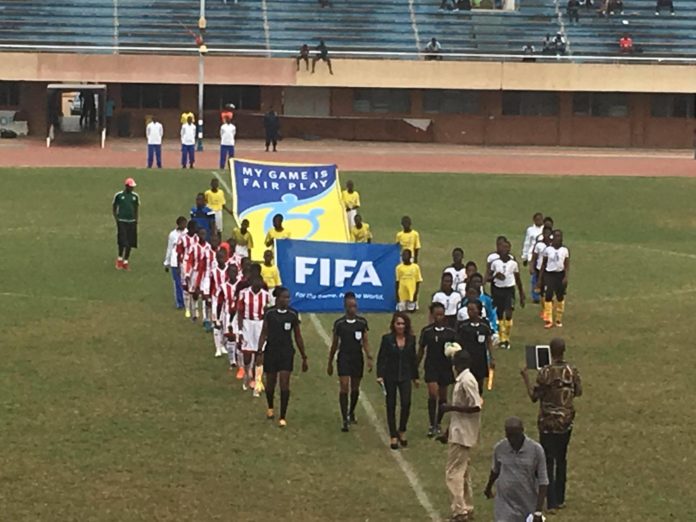 By Alieu Ceesay
It was another bad experience for the U17 Women's Team of The Gambia as they suffered a humiliating 5-1 defeat to Ghana.
The Ghana Black Maidens' Skipper Abdulai Mukarama scored five goals to see Ghana beat host Gambia in a spectacular style.
The two sides clashed on Saturday at a virtually empty Independence Stadium in Bakau, Gambia in the first leg of the second stage of qualifiers for the 2018 U17 Women's World Cup.
Ghana, a much more better and experienced side was the side to watch as they dominate the host Gambia from start to finish.
Ghana has qualified in the previous World Cups, while Gambia played its first World Cup in the 2012 edition in Azerbaijan. The country conceded 27 goals in three group matches against Korea, USA and France.
The country has been out of action since that qualification.
Ghana now has the upper hand of progressing to the final stage of the qualifiers, as The Gambia will have an uphill task of overturning the results.
Mukarama, who played for Ghanaian league side Northern Ladies opened the scoring in the second minute before doubling the lead in the 12th.
The sensational forward continued to pose more threats to The Gambian side as she scored twice to add the tally to four.
Gambia managed to pulled one back just three minutes to the break with Fatoumatta Sowe's incredible free kick at the edge of the 18-yard box.
Resuming from the break, The Gambia continued to pushed for an equalizer but Ghana won't allowed them to penetrate.
As if Ghana would have scored more goals, Gambia managed to avert any further embarrassment.
However, the uncontrollable in-formed Mukarama scored her final goal of the night in the 86th minute. Coach Abdoulie Bojang and team would be traveling for the return leg in two weeks time.