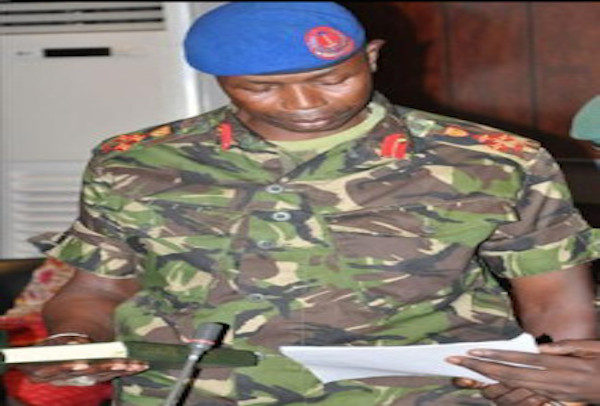 Former Secretary General, Momodou Sabally has said that the former Commander of the Republican National Guard, General Saul Badjie was more powerful than the then Vice President of The Gambia.
The former outspoken Secretary General made these revelations among others before the commission of inquiry probing into the financial dealings of the former President Yahya Jammeh and his close associates at the Djembe Beach Hotel.
"General Saul Badjie was more powerful than the then Vice President," former SG Sabally said.
"As Secretary General, I received calls from General Badjie with instructions allegedly from the former President," he added.
The former SG said sometimes he would make queries to the former president who would confirm to him that the instructions were given by him.
When asked by Commissioner Bai Mass Saine whether the former General was a Co–President, his answer was in the negative but added that the former Army General was more powerful than the then Vice President.
Sabally said the former General was a very close confidant of the former President, noting that there were consequences for defying his instructions.
The former Secretary General Sabally was summoned in connection to the International Gateway contracted to MGI.
Sabally recalled that the former president summoned him to a meeting at Kanilai where he met the former General Saul Badjie, former Gamtel MD Babucarr Sanyang, Bala Jassey and a gentleman from Switzerland. He added that the former president decided to handover the International Gateway project to MGI while terminating Tel Company's contract. He said the former president instructed him to work with Gamtel on the said project.
"I believe General Badjie had influence in the contract," he asserted.
The former SG Sabally spoke about Mobisel, a company belonging to Bala Jassey that was working on the former President's telephone sets to divert international calls without passing through Gamtel, noting that the impression given at the time was that it was based on security reasons.
Sabally told the commission about the relationship between Bala Jassey, Babucarr Sanyang and General Saul Badjie.
The Former SG said he raised concerns with the former president about the diversion of revenues from the project but his concerns were downplayed and he was later sacked.
"The circumstances were murky," he said.
Sabally said he believes partly that his dismissal had something to do with the concerns he raised about the diversion of revenues generated from the Gateway project.
"I was told anytime the Gateway is shifted to a new management the SG is fired," he added.
The former Secretary General said he believes the former president has something to benefit from the International Gateway project.
Meanwhile, the General Manager of GAMCEL also testified before the commission.