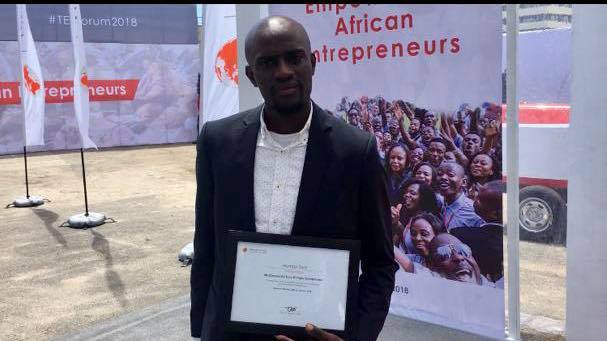 By Alieu Ceesay in Lagos, Nigeria
Momarr Mass Taal, Founder and Managing Director of Tropingo Foods- a food processing company's focused on dried fruit and nut exports has won an award at the 2018 Africa's largest entrepreneurship forum in Lagos.
Momarr Mass Taal is a Tony Elumelu Foundation (TEF) Entrepreneur and his success story is an exceptional one considering how far his company has come from the $5000 Tony Elumelu seed fund in 2015.
Taal was presented with certificate of awards together with five other entrepreneurs for the enviable success.
The surprising thing about Momarr's story is although he never intended to go into agribusiness from the start as he wanted to be a diplomat like his father.
At a very tender age of 18, Momarr Mass Taal had a clothing line – Malyka Clothing which was based in Canada. But on returning to The Gambia after his University degree, he saw a gap and felt the need to fill it; hence, Tropingo Foods.
In an interview, Momarr Mass Taal, said the award is something that every Gambian should be proud of.
"I dedicate this award to all Gambians."
While urging the Government of The Gambia to empower the entrepreneurs, Taal encourage the youth to always believe in themselves and go after what they want.
As part of the first cohort of the TEF Programme in 2015, Taal was invited by the organisers in 2016 as an alumni to share with over 1000 African entrepreneurs his success story and challenges.
Meanwhile, three of the five selected entrepreneurs from The Gambia for 2918- Banky O.C Njie of Fintech, Chan Mendy, fashion entrepreneur and Sarah Bintou Dibbasey, who is into bakery are also among those attending the forum.
The trio are hoping that their entrepreneurship aspirations will be actualised with the support of the Foundation. They are hoping to interest and connect their peers from other countries.
Meanwhile, President Nana Akuffo Addo is also in Lagos to join over 5,000 young African entrepreneurs drawn from across the continent.
These young entrepreneurs, most of who are into agriculture are funded, trained and mentored by the Tony Elumelu Foundation (TEF), Africa's leading entrepreneurship-focused philanthropic organisation.
Established in 2010 and launched in 2015, this year's forum just like the previous ones gather to celebrate Africa entrepreneurs that are impacting positively in their different countries.
This year, 1460 entrepreneurs are graduated by the Foundation- 41% women- and will receive seed capital to transform their ideas and the African continent.
The event is a unique opportunity to generate ideas, forge networks and bring policymakers and the private sector together, in a spirit of robust debate and interaction.
In welcoming the entrepreneurs to the Forum, TEF CEO, Parminder Vir OBE said, in its 4th year, TEF Entrepreneurship Programme has empowered 4,460 entrepreneurs with a total investment of USD20million; 4,000 funded directly by the Foundation and 460 have been funded by partners.
In a short statement, the Group Director of Marketing and Communications of United Bank for Africa (UBA) Plc, Madam Bola Atta said: "Together we can make a difference to our continent".
Also in attendance are, the Founder and Chairman of the Tony Elumelu Foundation, Mr Tony Elumelu. Mr. Peter Obi, vice presidential candidate of the Peoples Democratic Party, PDP, Executive Governors-A. Bagudu and Mohammed Abubakar of Kebbi and Bauchi.
The Tony Elumelu Foundation Entrepreneurship Programme is a 10-year, $100 million commitment to identify, train, mentor, and fund 10,000 entrepreneurs.
Its goal is to invest in businesses that will generate at least 1,000,000 new jobs and contribute at least $10 billion in new annual revenues across Africa.