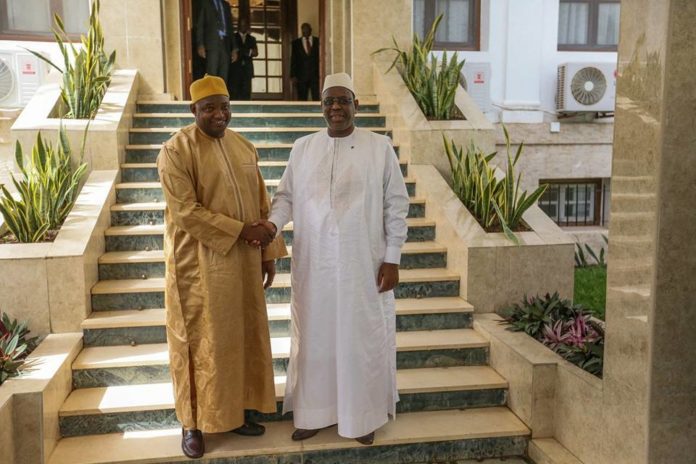 BANJUL: Gambia's President Adama Barrow has said that both The Gambia and Senegal are not complete without each other's support. President Barrow made these remarks during a joint press briefing at the first presidential council meeting held at the Kairaba Beach Hotel in Kololi on Tuesday.
The meeting which witnessed the signing of several agreements between the two countries to a communiqué was attended by ministers, experts and media personnel of both countries.
"The Gambia is not complete without Senegal and Senegal is also not complete without the Gambia," President Adama Barrow said.
President Barrow called on the two countries to be a model of integration in the African Continent. He said that they should strengthen ties between the two countries, noting that there is political will to make this happen.
He added that the broken ties created in the past 22 years must be cemented. Barrow commended the efforts of the Senegalese government to restored peace and security in the Gambia during the impasse and aftermath of the political turmoil.
The Gambian leader reassured that the agreements signed will not be beneficial to only Senegal but it will be of mutual interest to both countries.
President Macky Sall of Senegal also expressed delight on the progress made in building the Trans-Gambia Bridge, saying the bridge is not only a simple tool use for crossing over the River Gambia, it also has a  strong means of regional integration.
'People are building walls but Senegal and Gambia are building bridges'. He added that the two countries are one people who share the same cultural heritage.
"When we put our efforts together, the Gambia and Senegal can become a very strong social, political and economic market for the subregion," President Macky Sall said.
President Sall called on the security apparatus not to hinder the free movement of people and goods between the two countries. He said plans are underway to create an information center with the help of the Senegalo-Gambia Secretariat.
The communique signed includes among others things, defence and security, justice, consular matters, free movement of people and goods, tourism, energy and environment. It also includes six other agreements in the areas of road transport, assistance to detained persons and transfer of sentenced persons, health and animal production, cultural cooperation, sports and Higher Education, Research, Science and Technology.
Meanwhile, the two heads of state urged their respective governments to ensure the rigorous and effective implementation of recommendations that arose from the presidential council meeting.