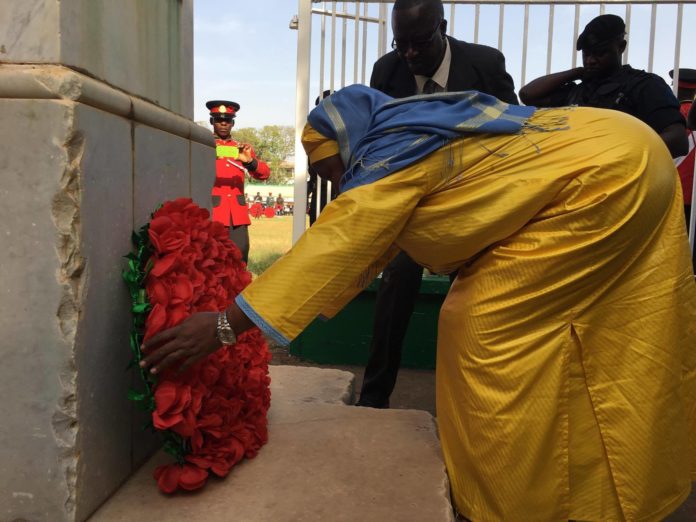 Gambia Armed Forces, today held a military parade to honor and remember World War veterans. The 2nd Sunday of every November is celebrated around the world as Remembrance Day.
The day is meant to remember the great services of those who gallantly sacrificed their lives for justice to prevail, during the World Wars.
At the start of the ceremony, at July 22nd Square in Banjul, a minute silence was observed. It was followed by the laying wreaths by  Fatoumatta Jallow Tambajang, Vice President and Minister of Women Affairs, Major General Yakubu Drammeh, deputy chief of defense staff of Gambia Armed Forces, Sharon Wardle, British Ambassador to The Gambia, Mamudu Jobe, deputy Inspector General of Police and Mayor Abdoulie Bah of Banjul.
The event was graced by senior government officials and members of the diplomatic and consular corps.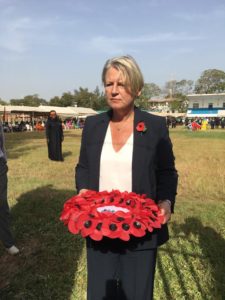 The history of the Remembrance Day parade dated as far back as 11th November 1918 at 11:00am. This was the exact moment when guns were silenced in the Western front during the First World War after four years of continuous war. The 11th day of the 11th month attained special significance in the post-war years.
The First World War brought about the mobilization of 70 million people and left between nine and 13 million dead, perhaps as many as one third with unknown graves. The allied nations comprising countries such as Britain, America, France, Canada and other countries including The Gambia chose this day and time for the commemoration of those who lost their lives during the war.