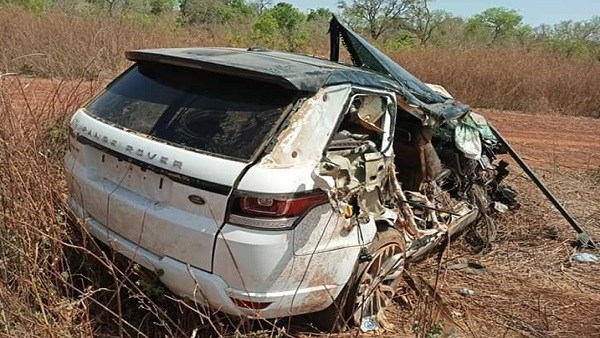 By Lamin Njie
Police in The Gambia have arrested a man in connection to a fatal car crash that claimed the lives of two people.
Police spokesman Lamin Njie confirming the development told The Fatu Network on Wednesday that Omar Jagana was arrested and charged with rash and negligent act involving death.
An Evoke Range Rover ploughed into a tractor near Sotuma Sare late Monday resulting in the death of Karama Danso, 59, and Kaboja Suso, 48.
Njie explained: "It happened on the 15th of April. A tractor was parked along the highway around Sotuma Sare. The name of the tractor driver is Omar Jagana from Demba Kunda. His tractor I think got some mechanical fault and he decided to leave it on the road just like that and he went, without any indication like a triangular reflector that should signal a coming vehicle, from the back and the front.
"So this other vehicle, a private car, was on its way to Dampha Kunda. The driver ran into the tractor. The crash was on the passenger side which left two persons dead. The two persons who died were Karamo Danso and Kaboja Suso. You have other passengers in the vehicle which included Foday Ceesay, Alagie Jammeh Ceesay and the driver Kawsu Ceesay. These people sustained some injuries and they are currently receiving treatment at Bansang hospital. Currently, the driver of the tractor is arrested by and charged with rash and negligent act. So investigations are still ongoing and appropriate actions will be taken.
"Also we want to tell people that the safety precaution requirements which vehicles should have include a triangular reflector, a first aid box and also a fire extinguisher in the vehicle. Suppose an incident happens, the driver will be able to make use of these things pending the arrival of help.
"But then where you have a vehicle because most times what we see is that if a vehicle has a damage on the road, some people will use leaves or branches of trees to and put them on the road. Some will use stones to put on the road. But the normal thing to do is to have a triangula reflector, one metres in front and the other one at the back so that the vehicles coming will know there's is a vehicle parked in front which is having mechanical fault."