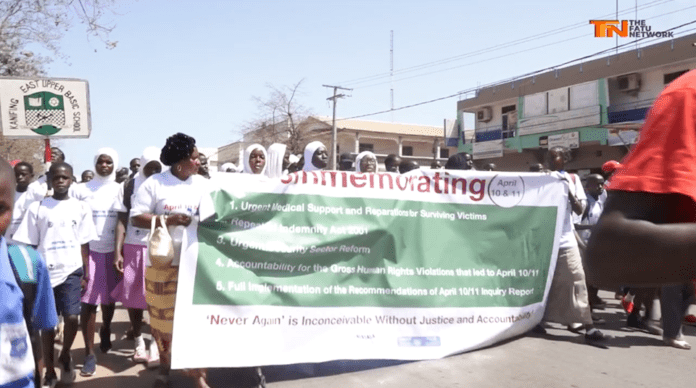 By Lamin Njie
Victims of the April 2000 student massacre have urged the government to bring the alleged perpetrators to justice.
Police in The Gambia on April 10, 2000 opened fire on a student demonstration killing 14 students.
Victims supported by concerned Gambians on Wednesday commemorated the brutal crackdown, where they directed their pleas for justice at the government.
Speaking to The Fatu Network at the event held at the Westfield monument, Yusupha Mbaye who now sits in a wheelchair as a result of the incident said he will not forget what happened to him.
"This is a day which we cannot forget. It's a very sad their and it's a history in The Gambia. I went to school on this day by then we were having assessment test. We went to school and I was not aware of any student protest. The students came to our class and took us to go and protest because Gambians students are protesting on behalf of a colleague who was raped at the Independence Stadium during the inter-schools competition and another student who was beaten to death," he said.
Madi Jobarteh, an activist, said justice is what is needed "and that justice entails addressing the plight of victims, providing them the necessary medical attention."
"As you can see, there are survivors who until today are living in pain, are in crutches, are in bed, are in wheelchairs. So they need urgent medial attention," Jobarteh said.
According to Jobarteh, the Gambia government should repeal the Indemnity Act "because that will allow for justice to prevail, so that perpetrators are brought to book and victims are adequately compensated and eventually to put an end to impunity."
Dr Ismaila Ceesay of the University of The Gambia said: "Today is a very important day. We are here to remember the April 10 and April 11 victims, to share the pain their families have been going through for the past 19 years.
"That day was a solemn day, a very sad day for this country. It was a day when school children decided to come out to fight injustice and in their quest to fight injustice they were brutalised by a murderous regime."