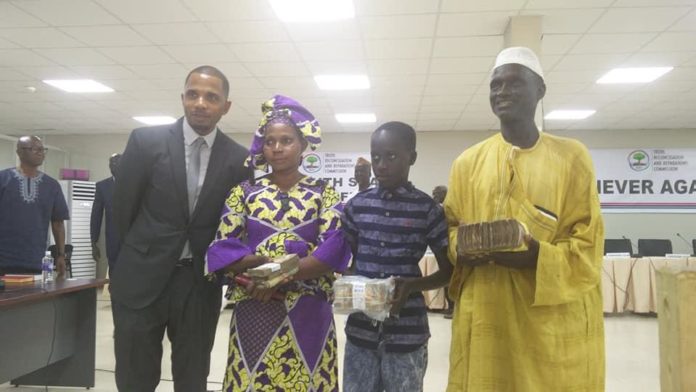 By Lamin Njie
There is a saying that at the end of every hardship there is ease. Well one man, Mafugie Sonko, has just gone about corroborating that saying.
The former driver in the Gambian army testified before the TRRC on March 12 where he detailed how Peter Singhateh and other soldiers hid in flowers on the night of November 11, 1994.
Sonko, who history will remember for his Tinki-Tanka comment, was among a group of soldiers arrested in connection with the alleged coup of November 11, 1994. He was jailed for nine years and sacked from the army.
On Thursday, the 64-year-old was gifted a land and cash totalling 175, 000 dalasis.
At the presentation ceremony held at the TRRC headquarters in Kololi, Sonko who wore a pair of worn out indoors shoe, an over-size yellow robe and white cap smiled as he was roundly commended for his TRRC testimony.
"I want to say a very big thank you to Mr Yunus Hydara for organising this fundraising for Mafugie and thank the Gambian community for everything that they have done so far. Their support to the TRRC in particular to Mafugie and his family," executive secretary of the TRRC Dr Baba Galleh Jallow said during the handover ceremony.
"I just want to say that this is not money coming from the TRRC, it is not an act of repatriation. It is an act we facilitated, good Gambians out there collecting some money for Mafugie and we just facilitating the handing over ceremony."
TRRC lead counsel who is the man behind the land gift, on his part, said: "Mr Sonko is benefitting from this simply because of the appreciation of the Gambian people, that he has come out to speak truthfully about what he knows to have happened and what he perceived to have happened in the manner in which he understood things."
The cash gift was handed over to Mr Sonko by top political scientist Dr Ismaila Ceesay.