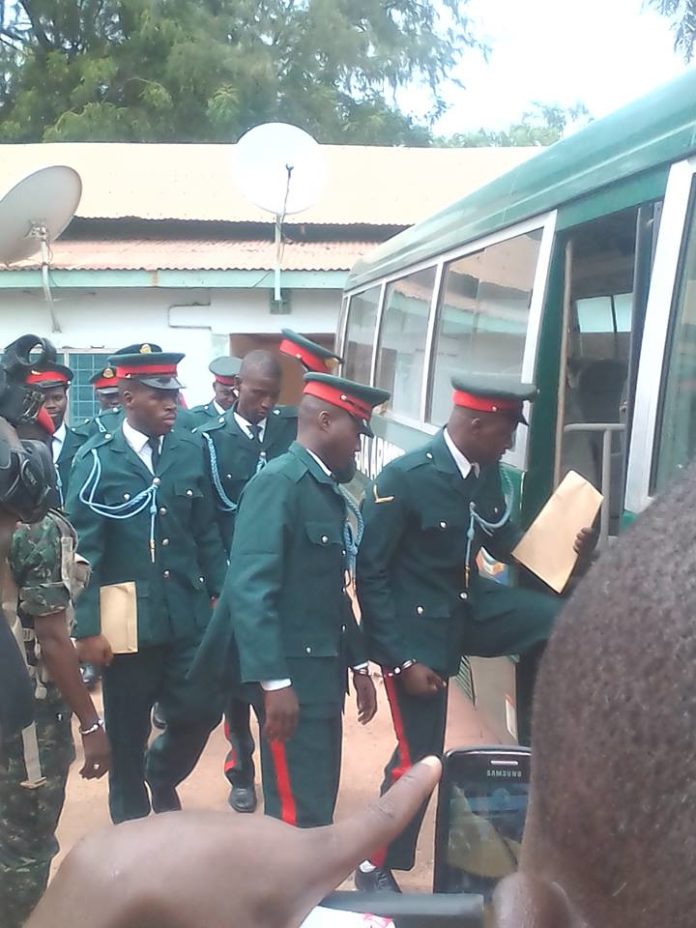 Twelve soldiers of The Gambia Armed Forces (GAF) who were alleged to be part of a 'WhatsApp group Conspiracy' were arraigned before a general court martial at the Yundum Military Barracks.
The alleged soldiers who are escorted with handcuffs under heavily armed security guards are Captain Yaya Jammeh, Captain Abdoulie Jarju, Lieutenant Yahya Jammeh, Sergeant Babucarr Jammeh, Sergeant Malick Bojang, Corporal Sulayman Sanyang, Corporal Lamin Gibba, Corporal Ebrima Jallow, Lance Corporal Samboujang Bojang, Lance Corporal Abba Badjie, Private Mbemba Camara and Private Alieu Sanneh.
They were arraigned before a panel of ten juries who are sworn in to take the case including a Judge Advocate, Sainabou Wadda Ceesay. Colonel Salifu Bojang is the President of the Panel and Lieutenant Colonel Seedy Joof, Major Abdoulie Manneh, Major Lamin K Sanyang and Major Basiru Sarr are all part of the panel.
The hall was almost full to capacity with security personnel and families of the accused persons.
The accused soldiers are facing nine counts including treason, concealment of treason and mutiny among others.
When the case was mentioned Friday morning, November 17,  the Lead State Counsel M. B Abubacarr who was assisted by A. Yusuf appeared for the state while the following officers Lieutenant Alieu Sanneh, Captain Bubacarr Bah, Captain Ansumana Sanyang, Captain Suwaibou Jammeh, Captain Momodou Demba and Captain Abdoulie Conteh among others appeared for the accused persons.
Before applying for an adjournment the state counsel urged the court to remand the accused soldiers to the state central prisons due to inadequate facilities at the military detention centers. Captain Suwaibou Jammeh made an objection saying the accused persons might not access their counsels and families at Mile II Prisons. He also made an objection to remove one of the assisting prosecutor who was part of the board of investigators in the case.
"We have not been serve with the sim card registered details and WhatsApp chat audios," Captain Suwaibou Jammeh said.
The Lead State Prosecutor Abubakar said the evidences and witness statements would be provided to defense as the case proceeds. He also submitted that section 98 of the Armed Forces Act does not affect the assisting prosecutor. He urged the court to overrule the objection.
Meanwhile, the court has overruled the objection made by the defense to remand the accused soldiers to the state central prisons. It ordered the accused soldiers to be remanded at the central prisons. It further ordered the state to provide evidences and witness statements to the defense.
Subsequently, the case was adjourned to November 27. The accused soldiers were escorted to a awaiting military coaster van which rushed them to the state central prisons. Family members of the accused could be seen crying when the military coaster was leaving Yundum Barracks.