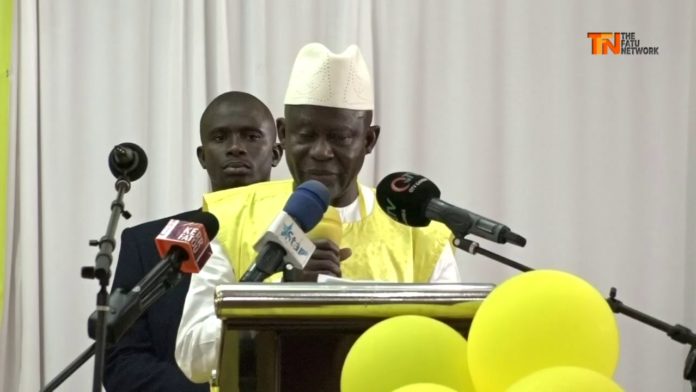 By Lamin Njie
Ahmad Gitteh has accused UDP leader Ousainou Darboe of not being ready to be challenged when it comes to being leader of the party.
"I am not in any way saying that Ousainou Darboe at any point in his speech mentioned that he wants to be the flag bearer but he clearly demonstrated in his speech that he is not ready to be challenged when it comes to leadership," the Canada-based political commentator who is also a fierce supporter of President Adama Barrow said in a Facebook post on Sunday.
Mr Gitteh's comments come amid growing misgiving between President Adama Barrow and the United Democratic Party. President Barrow's vice president Ousainou Darboe who is also the leader of UDP at the opening of the party's congress on Friday vowed to fight anyone who wants to divide his party, in what political analysts say was a sly dig aimed at his boss.
Members of the party who have been mobilising support for President Barrow are finding life difficult in the party.
On Saturday, the party made major changes to its constitution which prohibits anyone who works as a public servant from holding positions in the party's national executive. The move has since disqualified many of President Barrow's most trusted aides.
An unimpressed President Adama Barrow lickspittle, Ahmad Gitteh, said: "In every sense of the word, I consider this UDP gathering as more of a divisive gathering than a unifying one. After several months of politics of polarization, name calling and vilifications mostly against Adama Barrow supporting members of UDP by Darboe supporting members, I was expecting the right honorable Ousainou Darboe's message would be very appealing as much as it would be unifying for various ranks of the party. I could not be more disappointed in my thoughts and farther away from reality.
"The message by party leader during his opening was more about appealing to the wishes and aspirations of the part of UDP that supports him as the only viable and qualified presidential candidate for the party. His message was more like a signature or an autograph of approval for all the insults and vilifications that his loyalists piled and continue to pile against those with different opinions (BYM as they classified all of them).
"A statement that "I am not desparate to be president but whoever wants to divide UDP will have me to contain with" was more of an attack against those who rightfully believe different than those who support him. It appears that to Hon. Ousainou Darboe, people that want to see different leadership for the party and flag bearer than him are the ones dividing the UDP and not those who go about insulting and abusing anyone who do not share their wishes for Darboe alone to be a party leader and flag bearer.
"The constitution of UDP is very clear about rights of party members to freely have choices of leaders and express them in comformity with the principles. But history never lies.
"We will tell you about Bolong Kitty Sanneh's story when he was nomited by Lamin Jatta of West Coast region to challenge Ousainou Darboe as the party leader and secretary general years ago.
"It takes exceptionally great people to accept and treat contenders with respect and equality.
"UDP is simply going through its darkest moment of history as we see stifling and silencing of patroitic and bonafide members of the party with different choice of flag bearer for the 2021 elections."