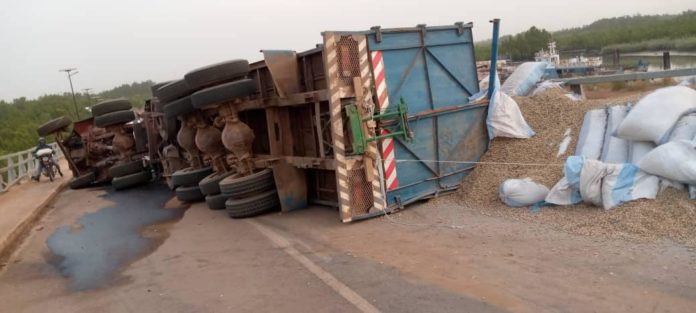 A heavy-duty truck fell onto its side causing traffic chaos at the Senegambia Bridge and sending officials of the Gambia Ports Authority scrambling in removing it from the bridge.
The Senegalese truck numbered KL5203B loaded with groundnut from Yelli Tenda to Bamba Tenda suddenly fell on the SeneGambia bridge last night around 23:00hrs blocking all traffic across the bridge, the Gambia Ports Authority said on Tuesday.
"Management is currently working on logistics to move the truck off the bridge.
"In the meantime, vehicles and passengers can kindly use the Banjul Barra crossing until the situation is resolved," the authority said in a statement on its official Facebook page.
The public relations officer at the Gambia Ports Authority Modou Sanyang confirmed the incident.