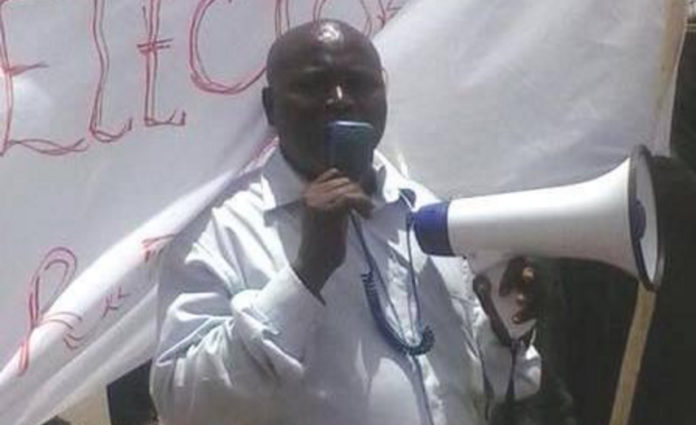 By Fatou Sowe
Baboucarr Njie of Sukuta Junction Ba and a photographer at the former National Intelligence Agency (NIA) now State Intelligence Agency (SIS) has told the high court in Banjul, presided over by Justice Kumba Sillah Camara that he together with his two junior officers took photographs and videos of Solo Sandeng and others at the NIA office in Banjul.
Njie made this statement while giving evidence as the seventh prosecution witness in the Solo Sandeng murder trial against 9 former officials of the NIA.
He testified that as at April 14, 2016, he was the head of the scientific support unit at the NIA headquarters. He narrated that on April 14, 2016, while he was outside the office around Salagi, he received a phone call from Louise Gomez the former deputy director general of the NIA and the 2nd accused person in the trial.
He added that Gomez gave him an instruction to prepare his junior officers for an operation. He said upon arrival at his office, Gomez asked him to go to the PIU offices in Kanifing to take photographs and video footages of the 'protesters'. He added that upon arrival at The PIU offices, he was told that they (Solo and others) were already taken to Banjul at the NIA headquarters.
Njie said at the NIA Banjul offices Solo Sandeng, Nogoi Njie and three others were paraded at the gate where he and his juniors, Assan Badjie and Lamin Bojang were, adding that he was later called to the counter intelligence unit and then to the conference hall where he took other photographs and footages.
He informed the court that all these photographs and videos were meant for the records of the events that transpired, saying further that he was instructed by Louise Gomez to set his camera at the interview hall after which he waited for the interview panelists to provide background information and screening.
He narrated that upon arrival of the panelists, Samba Sowe, Kebba Secka, Pa Serigne Mboob and Lamin Ceesay who are all staff of the NIA, he decided to leave his junior staff Assan Badjie at the hall and he went back to his office, as a result he cannot say much about what transpired at the hall.
Hearing continues on January 9, 2018.