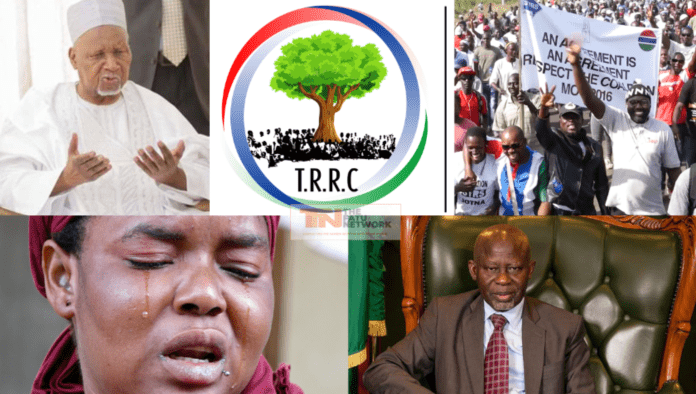 2019 is a truly memorable year. The year was littered with a lot events and some of these events have already left lasting marks on the future of our country. The Fatu Network has compiled a list of the top five events of the year.
1. FORMER PRESIDENT SIR DAWDA KAIRABA JAWARA'S DEATH
Former Sir Dawda Kairaba Jawara died on 27 August 2019 at his home in Fajara aged 95. Sir Dawda was the country's first president who was largely credited for leading the country's independence struggle in the 1960s. In 1965 when The Gambia gained independence, Mr Sir Dawda became the country's first prime minister. Five years later, he became the first president when The Gambia became a republic. He remained in the role until 1994 when he was removed from power in a military coup led by former president Yahya Jammeh.
At his funeral on 30 August, attended by Gambians from all walks of life including his two widows Chilel and Njaimeh, there was no shortage of encomium.
Veteran lawmaker Sidia Jatta was among a raft of speakers who paid homage to Sir Dawda describing him as 'immortal.'
"Immortals are those who stamp the world with their stamp. Some would put it parabolically as leaving indelible footsteps on the sands of times. Those are the people who live their lives in the service of others, and if they are believers they live in the service of God. Sir Kairaba Jawara was an immortal," Jatta said.
Omar Jallow, the man who served in Sir Dawda's cabinet for 13 years as minister said the former president was the 'greatest son' of The Gambia.
"He championed the independence of this country and became our first prime minister. Gambian interest comes first and Sir Dawda played that role and he respected it," Jallow said.
2. TRRC
The TRRC is Number 2 in our list. The investigation was set up in 2018 to look into the human rights violations and abuses of the 22 years rule of former president Yahya Jammeh.
The probe held its first public hearing on 7 January 2019 in a session graced by Gambians from all walks of life among them The Gambia's vice president at the time Ousainou Darboe.
Speaking during the opening ceremony, Dr Lamin J Sise the chairperson of the TRRC said it was time to find the truth and justice, heal the nation and then move forward as one people.
The probe then went on to broadened its work to include some of the most horrendous human rights violations to have taken place during Mr Jammeh's rule. Some of the developments at the TRRC that will forever remain in the hearts and minds of Gambians include the November 1994 attempted coup in which at a least a dozen soldiers were killed and the savagery of Jammeh's killer squad, The Junglers.
The TRRC however faced its first real test in June 2019 when Yankuba Touray appeared before the commission but refused to testify. Gambians will never forget the drama that later followed.
3. THREE YEARS JOTNA PROTEST
Three Years Jotna's protest is Number 3 in our list. President Adama Barrow came to power in 2016 through a deal that says he should serve a three-year term and step down. But soon after assuming office, Mr Barrow started displaying signs of a man who clearly did not want to leave power any time soon.
He began getting angry whenever he's asked about his three years pledge but the straw that broke the camel's back came at a rally in Brikama where he said he will serve for five years whether one likes it or not. His astonishing U-turn culminating in the forming of pressure group Operation Three Years Jotna that is spearheading a campaign aimed at ensuring he leaves office by 19 January 2020 when the three-year term would end.
The conception of Three Years Jotna dates back to 2018. The group was issued a permit on 9 December 2019 to protest against President Barrow's plan to stay in beyond three years.
On 16 December 2019, thousands of Gambians took to the streets to demand President Adama Barrow step down from power.
The protest was in the form of a walk from from Sting Corner to Denton Bridge as the protesters shouted, 'three years, three years'. They later handed a petition to government spokesperson Ebrima Sankareh and asked him to take to President Barrow. They told President Barrow in their petition that he should step down by 19 January 2020.
4. BARRA 'BACK WAY' TRAGEDY
Number 4 on our list of the top five events of 2019 is the Barra 'Back Way' tragedy.
Barra and other Nuimi towns have largely remained offhand where other Gambian towns have stood out in terms of the irregular 'Back Way' migration.
All that changed in December 2019 when Gambians awoke to news of the death of at least 60 Gambians after they boat they were travelling in to Spain ran into trouble and capsized near Mauritania. Most of them where from Barra and the incident marked the single biggest migrant disaster of the country in years.
What however made the Barra migrant tragedy more troubling is that fact that the women of the town are as interested in 'Back Way' as their men counterparts. And when it emerged that 11 of the 13 women who were onboard the 150 doomed migrant boat, this fact was better appreciated.
The United Nations later described the incident as the worst migrant disaster in West Africa in 2019.
5. PRESIDENT BARROW'S SACKING OF HIS VICE PRESIDENT OUSAINOU DARBOE
Number 5 on our list of the top five events of 2019 is President Adama Barrow's brutal sacking of his vice president Ousainou Darboe in March 2019.
When Darboe was released from prison in 2017, there was no sign that his relationship with President Adama Barrow would ever crack. It was simply just everlasting.
Darboe even heaped praise on President Barrow saying he was to The Gambia what Moses was to Israel, after the Gambian leader fronting Jammeh's slaughtering at the 1 December 2016 elections.
Darboe and Barrow were like father and son. President Barrow had previously hailed Mr Darboe as his political father. After winning the 2016 elections, he bragged that it's only a wayward child that would allow his father's house to fall apart as he told of how he stepped into his father's (Darboe's) shoes after he was arrested in 2015. And so how father and son ended up forsaking each other, forever, is what is still shrouded in mystery.
After his sacking on 15 March 2019, Darboe cornily joked: "I think the bus conductor has decided it is my time to get off the bus."