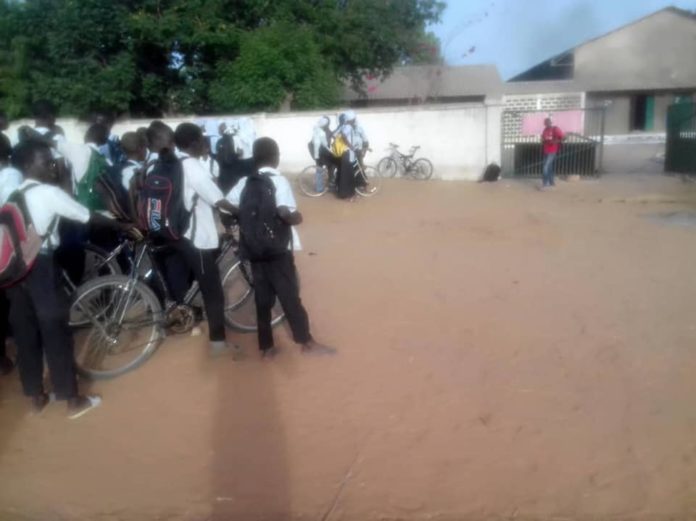 By Lamin Njie
Teachers at Njaba Kunda Upper Basic and Senior Secondary School Thursday burned tree branches in front of the school demanding their salary for three months be paid.
At least a dozen teachers out of a 21-man teaching staff said they have ran out of patience as they have not received their salary since March.
One of the teachers told The Fatu Network: "We want the school board and the ministry to pay our salary before we go for Koriteh.
"We have raised the issue with the management as well as the deputy permanent secretary at the ministry of basic and secondary education, Adama Jimba Jobe.
"He was here in the first week of the Ramadan and he promised us that we will receive our salary but up to now we have not received anything."
Another one said: "We assembled the students and told them about the matter [protest]. We have informed them that without our salary there will be no lessons, that they should stay home.
"It's painful to be working without being paid. Some of us, our families find it hard to believe it when we tell them we are not being paid."
The principal of Njaba Kunda Upper Basic and Senior Secondary School Dawda Joof told The Fatu Network what the teachers were doing was understandable.
Joof said: "What they claim is a fact but not all our teachers in the school. [It's] about 12 of them. We had a budget deficit. The school was very big and the roll [payroll] fell down, and the financing of the school is based on the roll.
"When the roll fell down, the number of teachers that were there you cannot just lay them off. So we were managing to pay them. In October last year, there was a small problem. We were unable the get the money to pay them.
"So went to the GTUCCU who definitely came to support us. In October, November and December they were giving us overdraft and we were paying salaries. But by then our budget was at the ministry and we were expecting that when the budget starts in January we will get the required finance to foot the bill of all the salaries.
"But when this budget came, it fell short. Still we were getting about D133,000 but later on it went to D171,000 but with the salary increase we were not able to pay all. The problem was there and GTU said they cannot continue giving us overdraft so I wrote to the permanent secretary who said to get money was finance [ministry] at the time was a little bit problem[atic] but he will include their names in the main ministry payroll and will be paying them until December."
A ministry of basic and secondary education official could not immediately comment on the issue.
Njaba Kunda Upper Basic and Senior Secondary School has 305 students and 21 teachers.