Types of emojis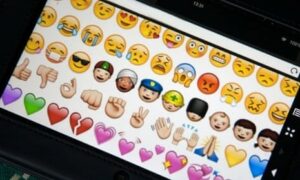 In the coming years, emojis may play a significant role in cases of serious crimes like human trafficking, child grooming, sexual abuse, murder, and more.  It will not be surprising when people begin to institute actions of breach of promise to marry, breach of contract, defamation, negligence, etcetera as a result of wrong use of social media emojis- it is so imminent.
It appears the days when we use emojis to communicate for fun are a thing of the past as it could land you in the courtroom. The traditional ways and aids of interpretation of contract documents are also no longer sacrosanct as the courts have started using emojis as aids to the interpretation of contract documents.
Though, the courts in the Gambia, Ghana, and other African countries are yet to be tested in this digital era, emojis are becoming an issue in the courts in advanced countries in both civil and criminal cases. The recent decision of the Canadian court that a thumbs-up emoji (👍🏽) sent as a text message can be interpreted as consent to a contract, even though novel, seeks to unveil a new aid to the interpretation of contracts.
In the same vein, an Israeli court has recently determined that an emoji can illustrate legal intent. It ordered damages to a landlord who claimed he replied to his detriment when he received a text with positive emojis and took down the ad for the property.
Another in the US happened when a teenager was arrested for terror threats after posting a status showing emojis of guns pointing at a police officer (amongst other things) and a 12-year-old was charged with computer harassment and threatening school staff after posting two messages that included gun, bomb and knife emojis with messages that read "Killing" and "meet me in the library Tuesday".
The work of Professor Goldman
In the aspect of the law and emojis, Professor Eric Goldman, an expert emoji professor of law at Santa Clara University School of Law has done extensive legal work and reasoning in this area of the law.
For instance, he explained that when issues arise in court that have to do with emojis, he examines the words, looks at the symbols included, and interprets them all together.
Also, in a criminal situation where someone criticizes the police and says, "I really hate the police," that alone would not be actionable. But if it started to sound like a threat against the police officers and then it was coupled with emojis like the gun emoji, the bomb emoji, and the knife emoji, those emojis will be interpreted in the context of your words to determine whether or not you had made a threat to commit violence. So, when you add the gun knives and bomb emojis to your disparagement of the police, that could add legal consequences that the words themselves wouldn't have had.
Another example could be that you're chatting with friends about a transaction. They might be offering to sell their car or TV set, or some other item and they are suggesting whether or not you might be interested in buying it. If you give the emoji, the thumbs up saying that you're interested. That's a legally binding contract. You've committed to purchase it by how you've expressed your intent. The fact that it was done by an emoji versus saying yes or "I agree to buying the product," or writing a signature on a piece of paper is immaterial. The symbol expressing your enthusiasm for the proposal can be enough to constitute a commitment that would be legally recognized.
So the question is whether we should continue using emojis even though they have legal consequences. Absolutely, according to Prof. Goldman. Emojis are fun, but he warned that we should treat them as a legally binding obligation.
Emojis statistics
Emojipedia.org reports that as of September 2020, there were 3,664 emojis in the Unicode Standard. Additional colourful and detailed images are released every year. The latest emoji release is Emoji 15.0. The next expected release is Emoji 15.1, currently scheduled for September 2023.
Prof. Goldman, studies also report that his caselaw tally shows 132 cases referencing emojis or emoticons in 2020, a 25% increase from 2019, which itself had seen a near doubling from 2018. Goldman says, "The most common emoji case involves sexual predation of children. Other common cases include murder, discrimination, and harassment."
Emojis in the Courts: Lawyers, Judges argues over meaning
Though the cases we examine were not decided in our jurisdiction, we explore the common law perspective as they have a persuasive effect in the absence of any authority. In other jurisdictions, lawyers are arguing the meanings of emojis, and judges examine their legal impact, but based on the case.  Our first case for analysis is Jesse R. Enjaian V. Mark S. Schlissel [2015], a University of Michigan student who sent a friend a text that said he wanted to make a classmate "feel crappy" and experience "deep dark pits of depression." He claimed that his inclusion of the "laughing" emoticon 😀 altered the text's meaning. The judge disagreed, ruling that the emoji "does not materially alter the meaning of the text message."
The second case is Elonis v. United States [2015], where the U.S. Supreme Court, for instance, reversed Elonis's appeal due to the absence of intent to threaten and his right to freedom of speech. The Supreme Court reasoned that the placement of the one "tongue sticking out" emoji is not a threat.
In this case, Elonis divorced his wife and posted a series of lyrics and statements online that could be perceived as threatening toward his ex-wife, local law enforcement, an FBI agent, a kindergarten class, and other entities. One of the statements considered as a possible threat included "Tell Riley he should dress up as Matricide for Halloween. I don't know what his costume would entail though. Maybe your head on a stick? :-P". Elonis was originally convicted on four of five counts of threats and was subsequently sentenced to 44 months in prison.
Also, in an Israeli small claims court case, Dahan v. Shakaroff [2016], a couple interested in an apartment sent the landlord a text that included the emojis of a smiley face, a comet, a champagne bottle, dancing Playboy bunnies, and a chipmunk. The court held that to be a valid acceptance on the part of the tenant.
In a recent case of Burrows v Houda [2020] NSWDC 485, proceedings were brought by Zali Burrows against Adam Houda concerning posts made on Twitter in July 2019 and May 2020 at the District Court of New South Wales. The court reasoned that the zipper-mouth emoji, by itself, could constitute a defamatory statement.  Also, in State v. DRC [2020], emojis helped keep a teen out of jail.  Also in Johnson v. State, 2020, it was reasoned that a fire emoji didn't support an involuntary manslaughter prosecution.
Challenges to users understanding of Emojis
Emojis present several interpretive challenges as interpretations are context-dependent on multiple levels.  Also, one of the biggest points of contention for emojis in court cases is that they render differently on varying platforms, depending on the type of phone you are using. Although the Unicode Consortium sets the standard for emojis, software makers, such as Apple and Google, then design versions for their platforms, opening up a path for inconsistencies and miscommunication. For instance, take the implementations of the "dancer" emoji: for Twitter and Apple, it's a female flamenco dancer. But for Google, it was, until recently, a John Travolta lookalike dancing disco style. And now it's a weird blobby thing. So, if you're about to tell someone "You look gorgeous, like a 💃", make sure they aren't reading it on a new Android phone.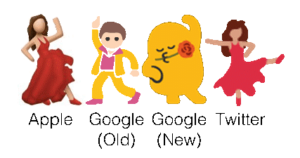 Also a study by Miller et al.(2016) from the University of Minnesota, participants rated popular emoji characters on Android and iOS as positive or negative. In the case of the emoji called "a grinning face with smiling eyes," some people interpreted the image as "blissfully happy" on Android, while it looked like it was "ready to fight" on iOS. Hence, no uniformity in their meaning by users.
Another study by Hillberg et al. (2018) found about 25% of participants were unaware the emojis they posted on Twitter could appear differently based on their followers' devices. After being shown how one of their tweets was rendered across platforms, 20% said they would have edited or not sent the tweet.
Interpretive Issues with Emojis
We found that there is no standard test for interpreting emojis.  For instance, the courts' understanding of emoji use is limited at best (see, for example, Warren v Peat [2017] FCCA 664 and R v Mella [2017] NSWDC 193).
Another is the Dahan case, the would-be renters and the landlord were introduced by a mutual friend, a type of social connection that may inspire more casual communications. Also, an emoji may mean one thing on Twitter, yet have an alternate meaning when it appears on Instagram.
Emojis can also have metaphorical meanings, as do the "fire" 🔥 and "locked with key" 🔐 emojis. Interpretations can vary by culture, region, or community.
In People v. Jamerson, 2019 Cal. App. Unpub. LEXIS 940 (Cal. App. Ct. Feb. 6, 2019). The defendant is alleged to be a pimp.  In this case, an expert witness detailed how a series of sent emojis, including a crown, high heels, and bags of money, provided evidence of prostitution, noting a crown often references a pimp in sex trafficking. This helps because the expert claims that the emojis have specific and non-intuitive meanings in the sex trafficking context that would not be clear to lay observers.
Here, the court doesn't need to know about the possible alternative meanings of the crown emoji; the court needs to know what the crown emoji means in the context of this thread between a putative pimp and a putative sex trafficking victim. For this type of inquiry, a community expert helps more than a linguistic expert says, Prof. Goldman.
In People v. Smith, 2019 Cal. App. Unpub. LEXIS 1691 (Cal. App. Ct. March 12, 2019). Prof. Goldman reasoned that:   the court interprets the emojis. It's not that hard in context. "Rat" is a well-known euphemism for someone who makes "disloyal" information disclosures, and the gun emoji isn't subtle. Evaluating the emojis in this context doesn't require fancy judicial work. Instead, interpreting these emojis is part of a skill the court system has been refining for hundreds of years.
In Ghanam v. Does (2014), this is what the court says about emoticons: The third allegedly defamatory statement was posted by hatersrlosers in this thread and stated: "They are only getting more garbage trucks because Gus needs more tires to sell to get more money for his pockets :P"
This statement on its face cannot be taken seriously as asserting a fact. The use of the ":P" emoticon makes it patently clear that the commenter was making a joke. As noted earlier, a ":P" emoticon is used to represent a face with its tongue sticking out to denote a joke or sarcasm. Thus, a reasonable reader could not view the statement as defamatory.
In U.S. v. Christensen (2013), this is the court's entire discussion about emoticons: Christensen claims Neuhardt violated attorney-client privilege and the Sixth Amendment by offering, in an e-mail to the prosecutor accompanied by an emoticon, to "stipulate that my client is guilty.:)" No one took Neuhardt's frivolous e-mail as an actual stipulation. Neither element of the Strickland test is met. This claim is denied.
In Re Nichol [2017] QSC 220 an unsent text message deemed to be a last will and testament included consideration of a smiley emoticon. The Court found this informality didn't prevent it from constituting a will.
The absence of an emoji was raised in a claim before the Fair Work Commission for unfair dismissal by a baggage handler who included the statement "We all support ISIS" in a Facebook post and claimed it was sarcastic (Singh v Aerocare Flight Support Pty Ltd [2016] FWC 6186).
 Take Home
Remember that emoticons are a group of keyboard characters (such as :-)) that typically represents a facial expression or suggests an attitude or emotion and that is used especially in computerized communications (such as email). On the other hand, unlike emoticons, emoji are actual pictures, of everything from a set of painted nails (💅) to a slightly whimsical ghost (👻). Once they form part of communication tools, they are legally binding.
Who Interprets Emojis? "Emojis cannot be considered a universal language," if that is the case, we see how our lawyers and judges would argue and interpret emojis in our jurisdiction. The second issue to consider is that symbols vary by culture.
For instance, the thumbs-up gesture has been up for debate as offensive or vulgar in the Middle East, while it's a sign of something good in other parts of the world. A smiley face emoji is taken as sarcasm in China. Neither court opinion displays the actual emojis at issue. We wait to see what happens in our jurisdiction.
The authors are (BL) candidates at the Gambia Law School, Banjul.
The legal article is for academic awareness only.