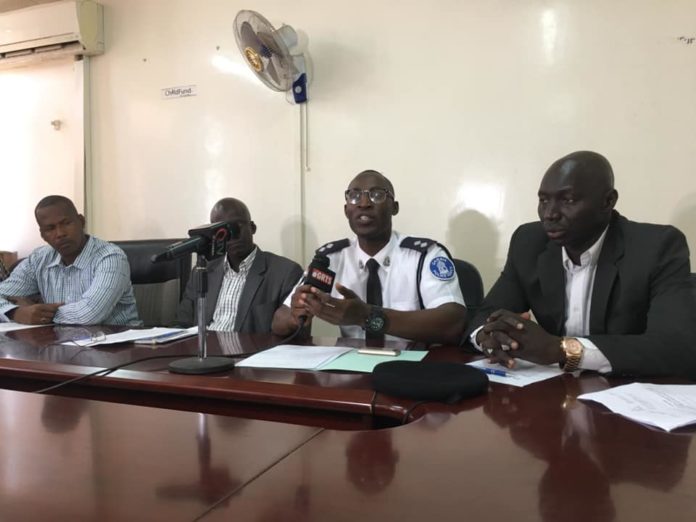 By Lamin Njie
Police in The Gambia have announced the arrest of a marabout Boubacarr Jallow for killing his client, cutting her into pieces and disposing of her remains in three bags.
Mama Barrow went missing on Sunday March 10 after leaving her house in Tallinding, according to a complaint lodged at Tallinding Police Station by the victim's sister Bintou Barrow.
On Tuesday, police told reporters at a press briefing held at the police headquarters in Banjul that Mama had in fact gone to see Boubacarr Jallow in Banjullinding where she ended up meeting her death.
The spokesman of the Gambia Police Force Lamin Njie explained: "[The] situation that has to do with a report that one officer of the Gambia Civil Aviation Authority made a report on the 18th of April 2019 at the new Yundum Police Station about something that he saw and that is… According to his report, he said he saw a decomposed dead body that has been mutilated and put in three separate bags. And because of this, he immediately went to the police station at New Yundum and reported to the police about what he saw.
"The police didn't waste any time. They left immediately for the scene, to confirm and then found the body which they send to the Edward Francis Small Teaching Hospital mortuary for further examination. When this report came, the Gambia Police Force keeping its records had also understood that a case was reported at Tallinding Police Station where somebody by the name Bintou Barrow had reported that their sister Mama Barrow had been missing since on the 10th of March and she was never seen since then.
"The police were able to connect the dots and expanded on the investigation. When they expanded the investigation, questions were raised and then the family was able to tell that oftentimes, when Mama goes out, she usually visits a Marabout by the name Boubacarr Jallow who resides at Banjullinding. And even though they may not be sure if she was out to visit this marabout, but they believed that oftentimes when she's out she usually visits this marabout. And then time went on and the police continued intensifying their search. They continued searching until they were able to understand that this suspect by the name Boubacarr Jallow is hiding somewhere and the body that was recovered has something to do with the report that was done at Banjullinding and efforts were made with the little resources that the Gambia Police Force has but yet, they put in a lot of human resources and efforts into this to ensure that they get to the bottom of this situation.
"And this has led to the arrest of this marabout, Boubacarr Jallow who was in hiding at Batokunku. He was hiding in Batokunku but because of the efforts of the police, the police were able to get him at where he is and he was arrested. When he was arrested, he was taken through series of interviews as to the connection between the dead body that was found and the fact that a lady had been visiting him and they were able to establish what his knowledge or level of involvement was in this whole situation.
"The investigations revealed that this marabou Boubacarr Jallow told the whole story to the police as to his dealing with Mama Barrow. We came to understand from Boubacarr Jallow that Mama usually visits him. He was able to confirm that Mama came to his house on the 10th of March. When Mama visited him at his house, already there was an issue of monetary transaction. It was like Mama was owing him some money, up to an amount of 150,000 dalasis. And this 150,000 dalasis was what he was requesting from Mama. In his own opinion, Mama was not giving him sufficient explanation as to the whereabouts of this cash amount of 150,000 dalasis. And then a fight ensued between him and Mama where on the back of her head and she fell down.
"According to him, when she fell down – knowing that Mama is somebody with a hefty built – he decided to jump on her and hold on her neck. They pressure resulting in Mama suffocating and dying. When the lady died, he was eventually left with no options as to what to do about the body. He was having a knife in the room and then he mutilated the body, cutting it into pieces for the purpose of being able to dispose it conveniently.
"This he did by putting some parts of the body in one sack and some other parts in the other sack and the third sack the other parts of the body. And then he hired a taxi and with this taxi he was able to go to the airport dumping site where he disposed of the body and then went into hiding. The police were able to investigate this situation until they were able to get to the bottom of the matter. As we speak, Boubacarr Jallow has been charged with murder contrary to Section 187 of the Criminal Code, Laws of The Gambia."