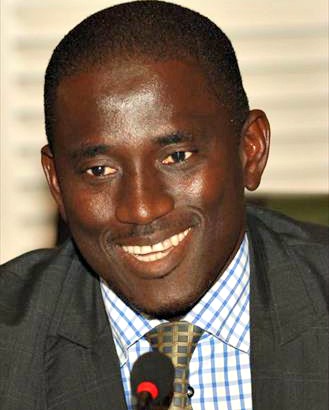 The Gambia's finest rapper, ST, once  asserted in one of his hit tracks, "we're bigger than all these stars when shall I become a galaxy?" And from his inspiring lyrics I take my cue to emphatically state the obvious: in the firmament of Gambia's political celestial bodies, the United Democratic Party is bigger than all these other stars; it's The Gambia's political galaxy!"
And so being the galaxy that it is, anytime a self-acclaimed star drifts from the party, another brighter planet emerges in the Yellow galaxy! A couple of weeks ago the lacklustre Karamo Jadama showed his true colours and jumped ship to the flat-tired bus only to be replaced by the towering giant (both literarily and metaphorically) Alhagie Sainey Sabally of Royal pedigree (both from his maternal and paternal sides), as Chairman of the UDP's North Bank Region. 
For a party that has earned its place as the most youth-friendly party to have Aji Yamundow Yarbo stepping up after our old uncle Mr Bojang's departure;  in addition to having the legendary Aji Yam Secka as Deputy Secretary General; which entity can claim to be more progressive and gender-sensitive than UDP?
Interestingly enough, in the same song where ST raps about being a galaxy he warns a certain Dembo, saying we "gone by force". And therefore I paraphrase ST and proudly sing "So nko Dembo yeh UDP is going to State House by Force; no one can stop this trajectory to victory at the impending national polls!" 
As I finalise this second segment of this two-part essay, a very dynamic and influential young man, Bakary Manneh has decided to join the mighty yellow caravan on his birthday. The same day he announced his membership, Sunday December 15, he was able to convince another influential youth leader based in Europe to also make the same decision. This major feat was also preceded by another top youth leader currently doing post graduate studies in Asia also declaring his membership of the UDP after an initial flirtation with a new political party that just did their official launch.
So as this mass movement of the best and brightest into the UDP climaxes, we can do the ST and sing like he did in his song "Tass Dekabi": this is my zone duntu malango buka taamang taamang jang! (this is my zone, no little ant can perambulate here)
The UDP continues to grow and flourish and the best of its times are yet to arrive. Meanwhile here's a poem I recently did with the trending hashtag #KanaSong as title addressed to the Secretary General and Party Leader of the mighty Yellow Nation:
Kana Song
Not a story, this is a song
From strings the heart throbs on
Where true convictions belong
Fear not, do not cower to attention
Fair or foul from humans stubborn
We listen to your heart's song 
The true thoughts you hold strong
Let those ooze out from the bottom
Of your heart purely sung
Stick to that and 'kana song'
'Ka Silah wara ka jarra jarra'
'Kana song jutunna-yaa la'
'Ka dimbaa toe fo, wo teh daa jani la!'
Sing your own song – Kana Song!
Be glad thou shining yellow stars
Lawyer Darboe yeh banko taa!
Momodou Sabally 
The Gambia's Pen