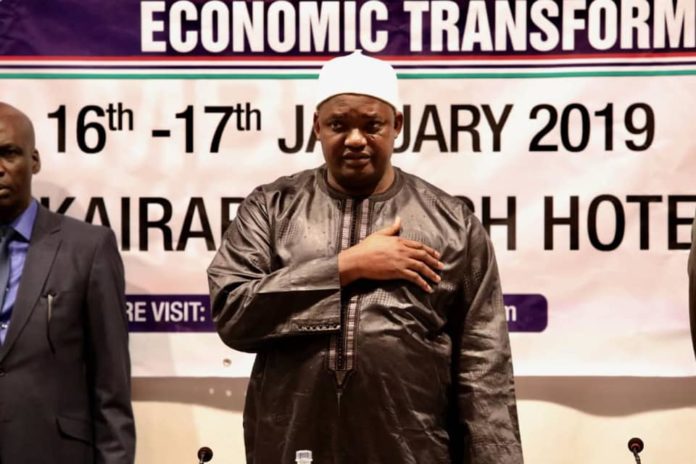 December is three months away and already the polity is heating up. I honestly do not know how it will all pan out.
I still stand by what I said in February. That is President Barrow should by rights step aside in December. He has proven to be not good enough for what is, quite frankly, one of the toughest jobs in the land. The only problem is that he won't leave.
The issue of three years has come under greater focus these days. But what was I expecting especially when the stipulated time is drawing ever closer? And agonisingly?
Let's face one thing at this juncture; Barrow is in his third year in office but this year has proven to be the most difficult year. It was early this year when he spectacularly donned the gloves to settle his differences with a party that has done so much for him. And if you're looking for evidence in this settling-of-differences showdown, please do not go past the brutal preening of Ousainou Darboe, his once-upon-a-time political father.
My contention a few months back was that President Barrow's critics base was only going to grow after his firing of Darboe. This has come to pass. President Barrow now has a tremendous amount of opponents. And sorry, it will continue to grow. Deep into the unknown future that is.
But what the three years jotna issue has done is that it has made some people jittery. It would appear President Barrow is part of those people. The other day, there was a letter that was leaked online. In the letter, the presidency was asking the foreign ministry to write to all Gambian embassies around the world to request them to meet with Gambians in the diaspora to discuss ways of them staying away from anything that would lead to civil unrest in the country. Who says the three years jotna people are not filling minds with panic?
I have never taken the three years jotna movement seriously until I asked a friend about them. He knows about their activities and he believes they will take to the streets come December. If this has some level of veracity, the president will be then right to be worried.
President Barrow claims Gambians voted for him for five years. But even if we give this to him, a small investigation will tell him Gambians will celebrate if he didn't complete five years. The three years coalition agreement presented a chance but he has blown it.
But it is in my place to advise President Barrow against signing up to anything folly, anything that could ruin him in the end. Uprisings are often started by just one person and we have seen how African presidents humiliated themselves once they decide to stand up to them.
I was listening to Bakawsu the other time and it never for once occurred to me that the man is dumb. The guy knows what he was talking about and his letter as he himself would put it, should sure be forwarded to the president.
Lamin Njie, the writer, is the editor in chief of The Fatu Network. The views expressed are solely his person views and do not necessarily represent the editorial policy of The Fatu Network