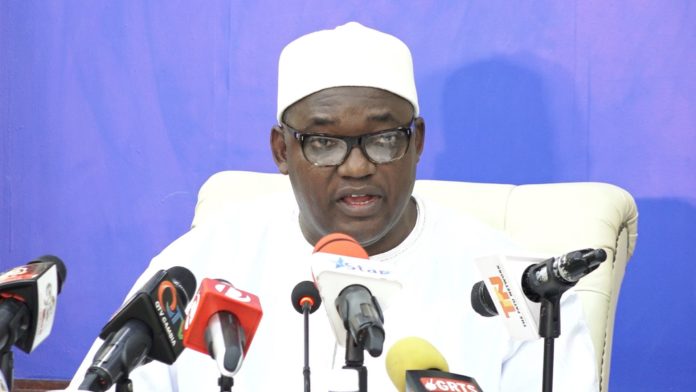 Somehow, there are certain people in the world, who walk the earth's surfaces as if entitled to all the goodness there is. In The Gambia, meanwhile, boasting some twelve (dormant) political parties & counting, could it be that the pomp & pageantry synonymous with presidential politics with its network of cars and ministers and security detail & agents entices irresistible thrills worth game. This morning, as I reminisce on the chorus of hardworking families going about life in sweltering heat for an honourable survival, it soon dawn to me that the country's empirical sovereignty is somewhat risked, tackled from behind, but for political brinkmanship. Common sense has to prevail, and quickly at that – given great confusion & uncertainty in the world.
On the economic front – Since independence, conflict expectations in regional geopolitics has not brought any success to West Africa. War fatigue exists, hence nation-states have come to realise that peace & improved trade relations is the pragmatic conduit to economic prosperity. The Gambia need to strategically plan spread wing across West Africa & beyond if gov't is truly serious about ambitions on being a middle-income country in the near term.
While it is admirable that normalisation has occurred between Banjul and Washington, and such countries of the European Union, the initial excitement has failed to translate into any fruitful gains. Where is the annual trade volume with EU member countries, or opportunities AGOA (United States) offers?! Historically, Banjul had done quite well in export trade during the Jawara era, Jammeh impaired it – though Barrow's gov't has failed to kick-start manufacturing as promised in its white paper. Questions will be asked of the trade ministry – is it leadership vacuum, or just a lack of critical understanding on the utility of trade?!
On due diligence – Before any sneezes, one only need to look at the attitude of certain civil servants during negotiations with quote on quote "foreign" investors. For instance, a trade ministry official who charged that the navy was too harsh on Chinese fishing trawlers despite caught red-handed in territorial waters; or signing up the airport to foreign firms charging own citizens exorbitant arrival fees for a 25% pocket change. How can the government justify such criminal contracts, never mind the throwaway deal handed Semlex with regards to national (passport) documentation: The latter expires this year, all eyes are wide open on the tendering process.
Government officials need sit confident at negotiating tables face their interlocutors as equals, regardless whom or what country that may be. Knowledge of the world and beyond is important, even the more reason for politicians & such people of high society to promote books, readings on our history & culture. Young Gambians today need good role models who inspires away from harmful streets. See, curiosity allows for critical thinking, thus, intellectual growth!
On Security Sector Reforms – The much talked about SSR necessitated by need has been an abysmal failure. Those put in charge do not seem eager enough, or know what they're doing in regards to the critical task at hand. Thing is, the president must take a firm interest in that excise, because the country's future depends on it. Four years in with millions already wasted with little or nothing to show for it – why da heck does Africa's executives reward incompetence, heads must roll.
Similarly, the issue of continued Ecomig Troop Presence on Gambian soil is the genesis of this grudge. To be crystal clear, one does reserve high regard for the office of the presidency, yet still resolved to hold the administration to account on its policies: For God's sake, here is a country in peace time – not war time – yet narrow interest continues to inform Ecomig "peacekeeping" mission with no shred of evidence for what it actually does. The president must not again negotiate any foreign troop presence on Gambian soil without the prior consent of Parliament. A violation of which endangers national security – triggering a vote of no confidence in parliament.
And since it costs the tax payer over D50 million annually to feed Gambian soldiers, per Defence Ministry stats, what is the point of the army or police then left side-tracked & side-lined for reasons still unclear. Four years in with no semblance of needed reforms, the status quo is unsustainable – parliamentary oversight is nigh:
On Impounded Weapons & Cocaine Scandal – The crisis unfolding in Gambian waters and (un)safe streets should not be left to rest. How can it be after all: Sue me (lol), questionable characters should never be allowed anywhere near the State House, nor the president's side. Crimes must not go unpunished, for the rule of law need apply fairly given national security implications in full glare. Mr president, the country's development partners are worried asking questions – will the government get its act together learn from history!!!
Cabinet Reshuffle – With a handful of poor performing ministers since the change, fresh ideas are needed at cabinet. The president will have been aware that critical reforms are required at the foreign ministry with regards to personnel & policy choices. Indications are that slippages [ ] respect to pursuance or strengthening the national interest element, secrecy, the world around us – and Gambia's role in how the world ought to work. My considered view, regrettably, is that foreign minister Tangara lacks the personal touch required of the role. He would no doubt make for a good ambassador to France.
And again, assigning ambassadorial positions to persons with little obvious relevant expertise endangers national interest. Clearly such posts are key to securing Gambia's interests abroad. The president has to be advised that political appointments undermine the country's long term interests, as they will almost inevitably change with change in government – Does UDP appointees offer any clues here!
On the Debacle @ IEC – When you thought it could not get any cloudier, a standoff at the Independent Electoral Commission was the latest to come to fore. A self-inflicted crisis bore out of greed, excessive greed that is. Alhagie Momar Njie, once held in high steads, but the cavalier manner that noble institution was run since the change of gov't is nothing short of contempt. I once wrote to congratulate him, to accord the man deserved fanfare for his stance @ election 2016. The problem with some people is that praise goes to their head quickly.
Let me express high confidence in Gambia Public Procurement Authority (GPPA), its Director General in particular, for his candour, standing by principles seeing to it that fairness ensures in protecting tax payer funds. Three million dollars, the press had said, IEC chose to single source to a German electioneering firm, when local firms could be helped to scale up. Why not accommodate local firms with such lucrative payment so as to secure own future. Don't you see that's exactly what China had done to be in this enviable economic position today. The Gambian people expect better decisions from those in charge. And the sooner IEC comes under new leadership, the better for needed reforms – The National Audit Office (NAO) needs to be better!
On NPP Scheduled Bash – The government's own figures have indicated that Covid-19 infections are on the UP in the country. That should worry us all for a life & death scenario causing havoc on nation states. So how can such an super-spreader political event now proceed after all, unless an administration that contradicts itself, i.e. making rules and breaking them. President Barrow needs to look closely @ the Banjul skyline, understand that the health of the nation is the highest law!!!
#LoveGambia #RiverGambia
Gibril Saine