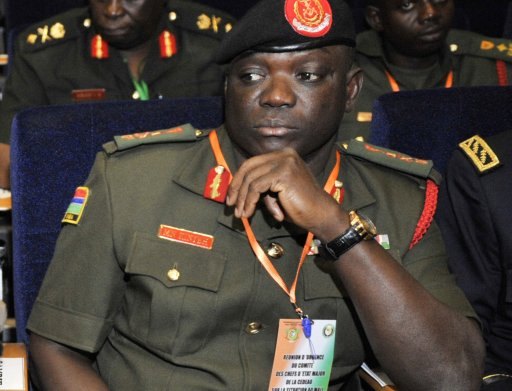 By Lamin Njie
The spokesperson of the Gambia Armed Forces on Thursday said the army has issued a strict warning to soldiers who were given t-shirts of President Adama Barrow.
Deputy political adviser to President Barrow Dou Sanno on Thursday pulled near a drugs store in Westfield and doled out t-shirts embellished with photos of President Adama Barrow. His action has prompted strong scrutiny.
The spokesperson of GAF Major Lamin K Sanyang who had earlier denied the soldiers receiving t-shirts told The Fatu Network: "It's just now that the story is becoming clearer to us because the soldiers have already reported back to Fajara. Actually, while they were cleaning the road, Westfield to Tabokoto going to Banjul, just by Stop Step, people were cheering them up and then all of a sudden a vehicle stopped, somebody came out and then gave them a packet of, a packet that contains something that looks like a t-shirt.
"So, the senior man on the ground was given and he put it on the bus that they came with so until they were done. They went to the Barracks and handed over these items to their commanding officer. So, when he looked at the t-shirt, looked at what is inside the packet it turned out what it looked like t-shirts with the picture of Senegalese president His Excellency Macky Sall and our President His Excellency Adama Barrow. And also at the back of the t-shirt was the bridge, the Senegambia Bridge that was just inaugurated and also written at the back '21th January 2019'.
"I think the t-shirts have to do with the opening ceremony of the bridge. So in a nutshell that was what happened. They didn't even know who gave them this t-shirt as reported by your paper that it is Dou Sanno. Some of these people, they don't even know him. Even myself I don't even know him. So that was what happened.
"But when they got this package, the standard procedure, you don't just reject it outright like that. Because that's also not you know I don't know how you call it. It is not Gambian sort of. It may be frowned upon because we don't know what it entails. But then they looked at it, it was not looking threatening.
"So they took it, put it on their bus but then nobody even wore any of the t-shirts or whatever until when they got to the camp and showed it to their CO who took it and then they realized that this is about the opening of the bridge in Farafenni.
"The packets were given to the men and then they were strictly warned like because it's not part of our military attire so if they can like probably give it to their family members or friends or loved ones but they may not be worn during working hours."