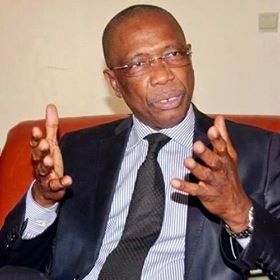 Issue to Macky Sall eroding Senegalese democracy…
Senegal is now a democratic model. Senegalese democracy has evolved greatly since the days of the Senghore's era when Oumar Blonde Diop was imprisoned on Gorre Island and died at the age of 27 in prison for his political activism. Senegal has been recognized by the Liberal International as a democratic beacon of hope for Africa under Macky Sall. The Millennial Challenge Account is not an easy grant to achieve and Senegal has been a beneficiary to it in the value of 540 million USD. It is an initiative of the US Administration that consists of a partnership with countries that have achieved some performance in the following three areas: good governance in the management of public affairs; creation of an environment conducive to private initiative and commitment of the State to make significant investments in the Social sector.
Issue of President Sall's Cronyism…
Macky Sall's brother, Aliou Sall, the current DG of Caisse des dépôts et consignation (Cdc) was placed in this position by the President but this was after he had to resign from his private sector position due to conflict of interest. Also the President's brother-in-law, Mansour Faye, the current Minister of Hydraulics is a founding member of Sall's party, APR. Both Aliou Sall and Mansour Faye are mayors in Guédiawaye and St. Louis respectively. Positions they were elected by their constituents for.
Unlike Karim Wade, "Super Minister" / "Minister of Heaven and Earth," the son of former President Abdoulaye Wade who was part of an entrenched corrupt system, with his father preparing him  for the Presidency. Karim simultaneously held the strategic positons of Minister of State for International Cooperation, Regional Development (Aménagement du territoire), Air Transport, and Infrastructure and later Minister of Energy. He was also President of ANOCI, whose mission was to prepare and organize the 11th Islamic Summit. He was accused of gross mismanagement of these funds. Karim Wade never held a position he ever worked for in his father's government.
The issue of debt…
It is false to say that there is a great deficit and that the all the grand projects of Macky Sal will 'sink Senegal.' The reality is, the biggest and strongest of economies operate on deficit. The reason why Senegal continues to secure loans is to fund necessary infrastructure projects needed for its emergent. Loans are only a bad choice if one cannot service them and the reality is, Senegal is handsomely servicing its loans hence they are trusted on the global financial stage and a signatory to the Paris Club and continues to raise bonds in the billions.
Issue of French controlling Senegalese economy…
This is a fallacy. The Chinese are actually the biggest partners of Senegal, not the French. It is also an ideology that this government only gives business to the French. There is also a lot of knowledge transfer going on in international companies operating in Senegal. There is also a great transfer of technology in all the projects. The Senegalese government works with the French, the Turkish, Chinese…not only the French.
Issue of political witch hunt…
To say that the Karim Wade or Khalifa Sall cases were political is naive. Both men were convicted by the courts for crimes they committed. Khalifa Sall has accepted wrong doing. When a similar issue occurs in the West, no one calls it a witch hunt, as in the case ofthe FBI's investigation of Hillary Clinton during her campaign.
Watch interview here: https://www.youtube.com/watch?v=ROgm8Z72vFc
By a concerned citizen.