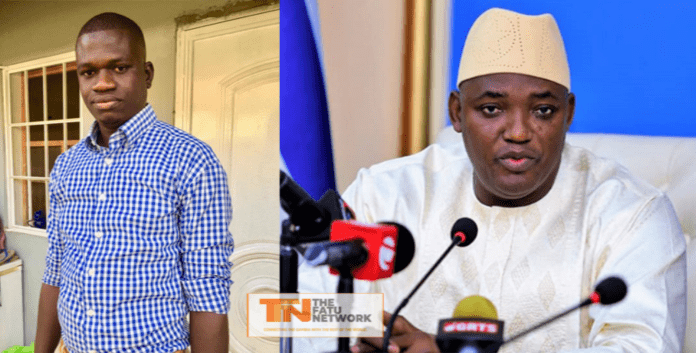 Mr President, it is incumbent on you to visit the past and reshape the present condition of the country. You have toured the four corners of the Gambia yet your words cannot be matched with your actions.
The Gambian youth trusted you implicitly as you were characterized as an honest, humble and God -fearing person but with time that trust has started eroding. Today we are facing instability with our future as we have to lavish on our hopelessness and once more sing the song of hope. There are none of your promises that you have heeded to give us a way forward.
We have seen the direction of your government in trying to separate the future of this country from the future of the youth. For the Gambia to realize its dream our future must be incorporated for a better system that will entrust us the youth with better responsibilities that will result in a developed Gambia.
Mr President, we expected you to embody the spirit of youth services that will recognize our valuable contributions as we have everything it takes to move our country forward.
Your government has failed to establish a resolute alliance that will empower the youth. Your 3 years have been marked with regret as the youth are relegated to nothing than a youth movement to complement your political ambition for another five years or more in power.
Are we always ready to be in the forefront of a convoy when those given ministerial positions are not more qualified than us?
When our own Ministry of Youth and Sports is not entrusted with youth to be empowered when our own affairs are discussed, when our own development is being outlined, when the country has more than 5000 senior secondary, college and university graduates every year. Are you telling me none of them is qualified to serve to the expectations of the youth of The Gambia when the major requirement is a Grade 12 certificate?
Mr President, our agreement was that the sea of The Gambia will be utilized to create more employment for the youth and today the same sea is being mortgaged to the European Union, Senegal and China.
Mr President, you promised to support us for a better and quality education. Why did you introduce tuition fees at the Gambia College when most students have the right qualifications but cannot afford the tuition fees?
How serious is this government?
Mr President, our parents have bigger dreams for us – that through hard work, motivation and great hope of a better future that we will provide for them, for us and for our country.
These are part of our duty as sons and daughters of our parents. They dream of a Gambia where one does not need to be rich to realize one's dreams, where one that does not need to come from a particular political party to be given a position, where one should not come from a particular ethnic group to be given what one deserves.
Mr President, the Gambia needs to be injected with new blood that has the drive and willingness to open a new chapter that will shape the future of this country.
We have observed that your administration is defined by nepotism, mispriorities, incumbent power as a way to outplay the opposition, divide-and-rule tactics
Mr President, your legacy will be celebrated with what you build to transform our lives as a one-time president of the Gambia and not the future you wittingly or unwittingly paralysed. You have a solemn responsibility to see what will make us better to reclaim your 2016 promises to us.
The greatest legacy is to install a change that will allow the vibrant participation of the youth in developing this country.
We don't need leaders who would only promise us about our future but to avail us of the right and decent opportunities to remake Gambia.
I acknowledge the efforts of the UDP for having Talib Bensouda as the youngest mayor, the former APRC government for having Momodou Sabally as the Minister of Presidential Affairs, Secretary General and Head of the Civil Service of the Gambia and the GDC for having the youngest National Assembly Member in the person of the Hon. Omar Ceesay.
These are efforts needed to be recommended and it is a good start and with the belief that the same start will be carried out by the opposition parties if they become the next government to set the pace for youth empowerment.
I long for better lives for my fellow youth and we still matter to those who believe in our capacity to change the Gambia.
The youth efforts in this Corona epidemic period have been, to some degree , commendable and despite the challenges let us never give up in building this nation for a good inheritance to our great grandchildren.
We have a nation to build and our collective efforts are required now and in the future.
Mr President, I regret to inform you that it is imperative to remove you from the presidency for the greater good of the youth and the Gambia.
Ebrima Nyang
Ass. Administrative Secretary GDC