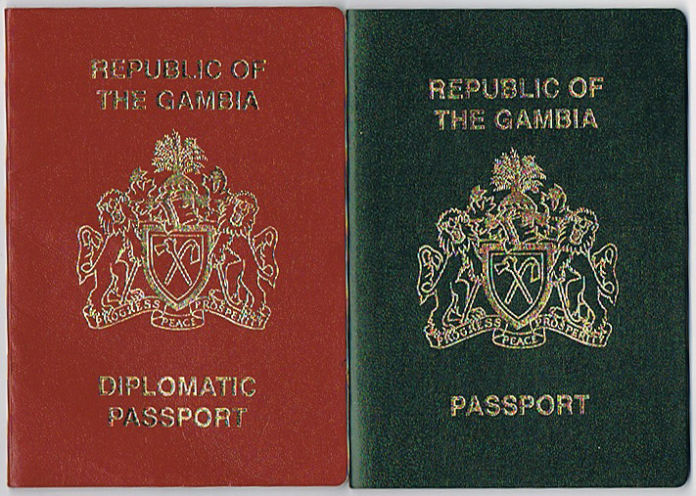 By Lamin Njie
President Adama Barrow as the singular approving authority of diplomatic passports has instructed a full investigation into the raging diplomatic passport hooha, government spokesperson Ebrima Sankareh said Monday.
President Barrow's government is trying to dig itself out of a firestorm following the arrest of dozens of people mostly government officials over allegations they go about fraudulently helping individuals hold Gambia diplomatic passport.
The arrested individuals include protocol officers at both the office of the president and the ministry of foreign affairs.
Abubacarr Tambadou became the first top government official to get caught up in the diplomatic passport scandal after letter emerged online on Saturday showing the office of the president approving a request for diplomatic passport to be issued to the justice minister's wife, mother, step-mother and sisters.
But on Monday, government spokesperson Ebrima Sankareh said in the statement 'President Adama Barrow as the singular Approving Authority of Diplomatic Passports has instructed a full, swift and comprehensive investigation to break the neck of the criminal cabal bent on tarnishing the good image of The Gambia.'
Mr Sankareh added: "Mr Barrow has made it categorically clear that 'there will be no sacred cows; no one will be spared in these investigations regardless of one's position and all those found wanting, will face the full extent of the law.'
"Therefore, conscious of the gravity of the situation and its potential ramifications vis-a-vis The Gambia's international obligations under UN Security Council Resolutions, the Ministry of Foreign Affairs (MOFA), will soon convene a meeting with members of the Diplomatic and Consular Corps to immediately address this and similar pressing issues."