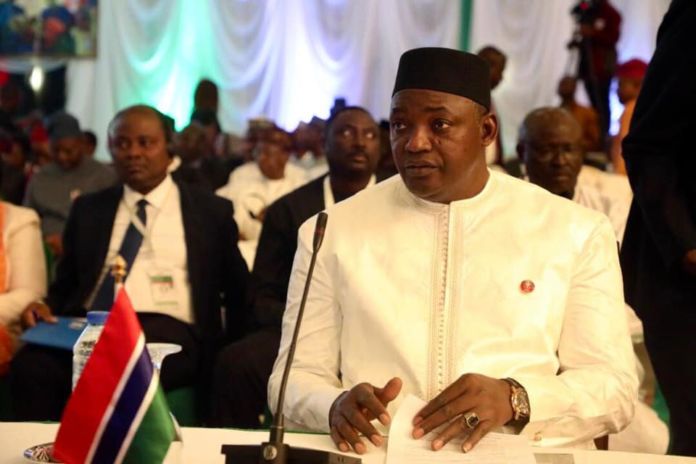 Mr President,
As people and businesses yelp the impact of COVID-19, it's time to think about what works well once the restrictive measures cease. A return to normalcy during this time does not mean a mere return to the previous situation.
Your Excellency, the 90th national situation report since the confirmation of the first case of COVID-19 in The Gambia has indicated that within the last 20 days, there has been over a 40% increase in the number of cases reported. Besides this, about 80% of confirmed cases were imported. Well, this is not a very good sign to flattening the curve campaign for our country. In fact, this is indicative of the "doubling times" in our epi curve. We must seriously fight the risk of importing new cases.
In many countries around the world that eased restrictions, there is report of resurgence. Clusters of cases have emerged alongside pocket of activities carried out and this has brought a lot of scientific arguments. Heterogeneity in transmission is a complex challenge and this is also another concern for many in suppressing the transmission. Are we ready?
Your Excellency, I am providing you these pointers for strengthening and adjusting public health measures in easing restrictions while remaining vigilant.
With the pressure from the international community into the opening of land and air borders of which I know you won't escape, your government needs to look into sustainable quarantining of cross border travelers. The current trend in expenditures of quarantine service is not sustainable. Plus, I will suggest that all persons travelling into the country under a tourism ticket to pay for their own quarantine expenses. This must be a mandatory pre-arrival condition.
Develop realistic restrictive measures for the event containment. It is now clear that the famous physical distancing measure and many other international copy-paste measures cannot be achieved in this country. There is a need for expert desk review on a more realistic local measures that match our local realities. I will suggest that the use of non-medical face mask be made compulsory throughout the country to help slow the speed of virus amplification to interrupt transmission.
The testing criteria for laboratory surveillance should be adjusted to accommodate mass testing. We must quickly activate a networked laboratory surveillance nationwide. This will help identify hot spot risks and increase the speed to be able to detect, isolate and treat every case and trace every contact. Rapid expansion is needed for the availability of test kits to ensure supply chains are responsive to surge needs for swabs, reagents, and any other essential testing materials as well as protective gears for people conducting the testing.
All public health facilities should be repurposed and supported with the capacity to activate a dual-track health system. We can't break continuity of service all in the effort to fight COVID-19 alone. We must make operational arrangements for our health facilities to accommodate both COVID-19 suspects and other health care seekers. An aggressive surveillance system must be activated to ensure that localized transmissions do not go out of control.
Health workers are the frontline soldiers in the fight against COVID-19. We must give them all the support and motivation because the heroism, dedication and selflessness is enough of reassurance that we will overcome this virus. Despite the unnecessary delay in the payment of their allowances, they continue to work in stressful and frightening environments. You need to recharge their energy.
Your Excellency, let me remind you that politically easing restrictions will seriously undermine response efforts. The ease of restrictions means taking a bit of risk and therefore must be based on epidemiological realities.
We are in your hands!
Best,
Sheikh Omar Sillah
MSc Epidemiology and Health Statistics (candidate)
Tongji Medical College
Huazhong University of Science and Technology (HUST)
Wuhan, China.