By Prof. Raphael Nyarkotey Obu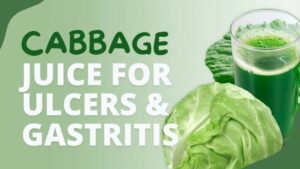 In my naturopathic clinical settings, I have seen how drinking 1.5 litres cabbage juice for three weeks completely healed people with serious ulcers who have been on medications for years.  Though people are sceptical about natural remedies. Some of these natural remedies are backed by science. Also, in seeking natural remedies you need to consult those who are well-trained in this profession.
Certain foods, herbs, and supplements may help your body fight the bacteria often responsible for causing stomach ulcers.  Ulcers are sores that can develop in different parts of the body.
One systematic review by Sung et al.(2009) found that gastric ulcers, or stomach ulcers, start in the lining of the stomach. They are very common, affecting between 2.4–6.1% of the population. Also, another study by Khoder et al. (2016) explained that many factors disrupt the stomach's environment and can trigger ulcers. The most common is an infection caused by the Helicobacter pylori bacteria.
Other common causes include stress, smoking, excess alcohol consumption, and the overuse of anti-inflammatory medications, such as aspirin and ibuprofen.
Conventional anti-ulcer treatment typically relies on medications that can cause negative side effects like headaches and diarrhoea.
Many have developed so much interest in natural remedies for their ulcers. But what are the scientific aspects of drinking cabbage juice and ulcers?
Cabbage and ulcers, science
Cabbage is a popular natural ulcer remedy.  Medical Doctors reportedly used it decades before antibiotics were available to help heal stomach ulcers. Three studies (Zhang et al. 1997; Jarosz et al. 1998; Tabak et al. 2003) confirmed that cabbage juice is loaded with vitamin C, an antioxidant found to help prevent and treat H. pylori infections.
Another animal study ( Hadda et al. 2014; Yamada et al. 2014) found that cabbage juice is effective at treating and preventing so many issues of digestive ulcers, including those affecting the stomach.
Not only in animals but studies were also conducted on humans. For instance, one old study by Cheney G (1949) found that daily consumption of fresh cabbage juice appeared to help heal stomach ulcers more effectively than the conventional treatment used at the time.
In this study, 13 participants suffering from stomach and upper digestive tract ulcers were given around one quart (946 ml) of fresh cabbage juice throughout the day.
On average, these participants' ulcers healed after 7–10 days of treatment. This is 3.5 to 6 times faster than the average healing time reported in previous studies in those who followed a conventional treatment.
In a subsequent study also by the same author, Cheney (1952), he prescribed the same dose of fresh cabbage juice to 100 participants with stomach ulcers, most of whom had previously received conventional treatment with no success. 81% were symptom-free within a week.
Though, others argued that researchers have yet to identify its exact recovery-promoting compounds, and no recent studies could be identified.
A recent study by Oguwike et al. (2014) in animals showed that cabbage juice healed ulcers faster within 15 days compared to the standard cimetidine ulcer drug. The bleeding and clotting times of test rats administered with cabbage juice were shorter than those on the standard ulcer drug and the corresponding control.
Cabbage juice and ulcer: How it works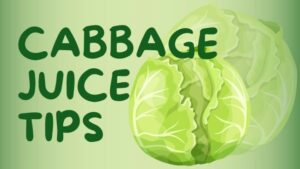 Crushed cabbage leaves are one of the most widely used anti-inflammatory remedies in Polish folk medicine. Cabbage, due to its specific properties, has been used in natural medicine mainly for rheumatic pain, vein and lymphatic vessel inflammation, bruises, sprains, mastitis, or gastrointestinal problems. Its "spectrum" of use is, however, much wider and encompasses the treatment of both internal and external diseases (Munns, 2003; Carper and Pszczołowski, 2008; Górnicka and Morex, 2011).
Cheney has attributed it to a compound in cabbage called Vitamin U as the healing property. Others also attest his study at the time had no proper placebo, which makes it difficult to know for certain that the cabbage juice is what produced the effect.
A recent study by Choi et al. (2019) explained that Vitamin U is a term introduced in the early 1950s to identify a compound in cabbage juice. Despite its name, vitamin U is not a true vitamin but rather a derivative of the amino acid methionine.
Examples of methionine derivatives often called vitamin U include S-methylmethionine (SMM), methylmethionine sulfonium (SMM), and 3-amino-3-carboxypropyl dimethylsulfonium.
Recent advances in science (Kasarello et al. 2022) have also confirmed that Cabbage juice contains compounds called anthocyanins and glucosinolate, which have been shown to have anti-inflammatory properties. These compounds help to reduce inflammation in the gut and promote healing of the digestive tract. A previous study also by Kim et al. (2020) also in mice found cabbage juice to help prevent gastric damage.
Oguwike et al. (2014) study deduced that cabbage juice contains some antiulcer principles that prevent further breakage of the lining of the gastroduodenal system.
Finally, fischerinstitute.com also reported that a 2015 study published in the Journal of Ethnopharmacology found that cabbage juice was effective in reducing symptoms of peptic ulcer disease, a common digestive disorder. The study participants drank 250 ml of fresh cabbage juice daily for seven days and experienced a significant reduction in symptoms like abdominal pain and bloating.
Warnings
Cruciferous vegetables like cabbage — particularly when eaten raw — contain substances called goitrogens, which can interfere with normal thyroid function. If you have a thyroid condition or are at risk for thyroid cancer, you might want to avoid cabbage juice.
Take Home
Though, older and current literature attests to the fact that cabbage is a natural ulcer remedy. It is also instructive to know that not everyone benefits from natural remedies for many conditions including ulcers.
However,  one of the best-researched health benefits of cabbage juice is its ability to heal ulcers. In all the studies, those with ulcers had complete healing after just three weeks of drinking 1.5 litres of cabbage juice regularly.
Also, it is best to consult a qualified natural medicine practitioner just in case you are looking for natural remedies for your health needs.
Also, if any natural therapies do not work for you, disregard them and immediately consult your healthcare practitioners.
NB:
Prof. Nyarkotey has strict sourcing guidelines and relies on peer-reviewed studies, academic research institutions, and medical associations to justify his write-ups.  My articles are for educational purposes and do not serve as Medical advice for Treatment. I aim to educate the public about evidence-based scientific Naturopathic Therapies.
The writer is a Professor of Naturopathic Healthcare, a Medical Journalist, and a science writer. President, Nyarkotey University College of Holistic Medicine & Technology (NUCHMT)/African Naturopathic Foundation, Ashaiman, Ghana. Currently BL Candidate at the Gambia Law School, Banjul. E. mail: [email protected].
References
Oguwike et al.(2014) Evaluation of Efficacy of Cabbage Juice (Brassica Oleracea Linne) As Potential Antiulcer Aggent and Its Effect on the Haemostatic Mechanism of Male Albino Wistar Rats. IOSR Journal of Dental and Medical Sciences (IOSR-JDMS) e-ISSN: 2279-0853, p-ISSN: 2279-0861. Volume 13, Issue 1 Ver. IX. (Feb. 2014), PP 92-97 iosrjournals.org
Kim, M.-R.; Kim, T.-I.; Choi, B.-R.; Kim, M.B.; Cho, I.J.; Lee, K.-W.; Ku, S.K. Brassica oleraceaPrevents HCl/Ethanol-Induced Gastric Damages in Mice.  Sci. 2021, 11, 16. https://doi.org/10.3390/app11010016
Górnicka J., Morex A. W. (2011). Apteka Natury: Ziołolecznictwo, Akupresura, Masaż Shiatsu. Raszyn: Agencja Wydawnicza Jerzy Mostowski. [Google Scholar] [Ref list]
Carper J., Pszczołowski K. (2008). Apteka Żywności: Nowe I Niezwykłe Odkrycia Leczniczego Działania Żywności. Czerwonak: Vesper. [Google Scholar] [Ref list]
Munns A. (2003). Cabbage Leaves: Cabbage Leaves Can Help Inflammation of Any Body Part. BMJ327, 451. 10.1136/bmj.327.7412.451-b [PMC free article] [PubMed] [CrossRef] [Google Scholar] [Ref list]
Kasarello K, Köhling I, Kosowska A, Pucia K, Lukasik A, Cudnoch-Jedrzejewska A, Paczek L, Zielenkiewicz U, Zielenkiewicz P. The Anti-Inflammatory Effect of Cabbage Leaves Explained by the Influence of bol-miRNA172a on FAN Expression. Front Pharmacol. 2022 Mar 24;13:846830. doi: 10.3389/fphar.2022.846830. PMID: 35401203; PMCID: PMC8987499.
CHENEY G. Rapid healing of peptic ulcers in patients receiving fresh cabbage juice. Calif Med. 1949 Jan;70(1):10-5. PMID: 18104715; PMCID: PMC1643665.
CHENEY G. Vitamin U therapy of peptic ulcer. Calif Med. 1952 Oct;77(4):248-52. PMID: 13009468; PMCID: PMC1521464.
Hadda et al.(2014) Effect of garlic and cabbage on healing of gastric ulcer in experimental rats. Medicinal Chemistry Research 23(12)DOI:10.1007/s00044-014-1092-z
Yamada T, Wei M, Toyoda T, Yamano S, Wanibuchi H. Inhibitory effect of Raphanobrassica on Helicobacter pylori-induced gastritis in Mongolian gerbils. Food Chem Toxicol. 2014 Aug;70:107-13. doi: 10.1016/j.fct.2014.04.037. Epub 2014 May 13. PMID: 24835035.
Zhang HM, Wakisaka N, Maeda O, Yamamoto T. Vitamin C inhibits the growth of a bacterial risk factor for gastric carcinoma: Helicobacter pylori. Cancer. 1997 Nov 15;80(10):1897-903. PMID: 9366290.
Tabak M, Armon R, Rosenblat G, Stermer E, Neeman I. Diverse effects of ascorbic acid and palmitoyl ascorbate on Helicobacter pylori survival and growth. FEMS Microbiol Lett. 2003 Jul 29;224(2):247-53. doi: 10.1016/S0378-1097(03)00439-7. PMID: 12892889.
Jarosz M, Dzieniszewski J, Dabrowska-Ufniarz E, Wartanowicz M, Ziemlanski S, Reed PI. Effects of high dose vitamin C treatment on Helicobacter pylori infection and total vitamin C concentration in gastric juice. Eur J Cancer Prev. 1998 Dec;7(6):449-54. doi: 10.1097/00008469-199812000-00004. PMID: 9926292.
Khoder G, Al-Menhali AA, Al-Yassir F, Karam SM. Potential role of probiotics in the management of gastric ulcer. Exp Ther Med. 2016 Jul;12(1):3-17. doi: 10.3892/etm.2016.3293. Epub 2016 Apr 26. PMID: 27347010; PMCID: PMC4906699.
Sung JJ, Kuipers EJ, El-Serag HB. Systematic review: the global incidence and prevalence of peptic ulcer disease. Aliment Pharmacol Ther. 2009 May 1;29(9):938-46. doi: 10.1111/j.1365-2036.2009.03960.x. PMID: 19220208.