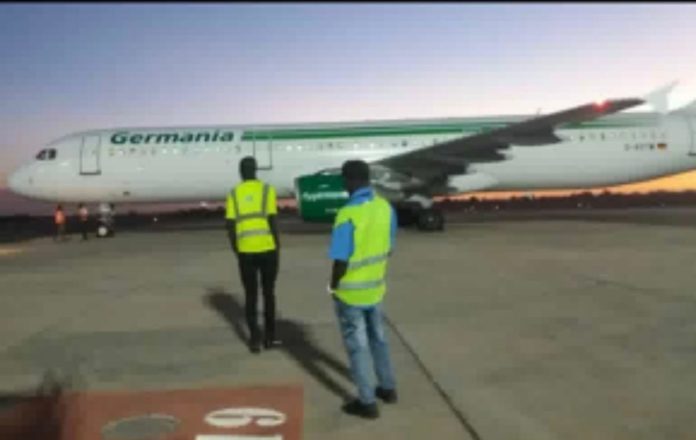 By Lamin Njie
At least 15 undocumented Gambian migrants were on Tuesday deported from Germany.
The deportees arrived at the Banjul International Airport Tuesday evening, government spokesperson Ebrima Sankareh told The Fatu Network on Tuesday.
The deportees, all male, were brought back in a chartered Germania aircraft with Registration Number ST1090.
Germany is hit by a migrant crisis with hundreds of thousands of people among them Gambians seeking asylum in that country.
German President Frank-Walter Steinmeier back in 2017 confirmed that there are over 35, 000 Gambians migrants in Germany out of whom 1, 500 are undocumented and awaiting deportation.
"There are over 35,000 Gambian migrants in Germany, out of whom 1,500 are undocumented and awaiting deportation,'' Steinmeier had said at a joint press conference with President Adama Barrow in Banjul.
Steinmeier had also said the two countries will bring technical experts to work on the problem, including providing skill training to Gambians.
"Europeans do not have answers to Africa's problems, the problems need African solutions,'' he had said.
Meanwhile government spokesperson Ebrima Sankareh has told The Fatu Network the flight was also carrying about 45 Nigerians.
"While the 45 Nigerians proceeded to their home country, the 15 Gambians were received by immigration officials and successfully processed. Some were received by their family members while those whose family members couldn't make it to the airport were escorted by immigration officials to their homes. Escorts from the International Office for Migration (IoM) gave each deportee 60 Euros for Taxi fares. The IOM has also earmarked a reintegration package for the detainees," Sankareh added.