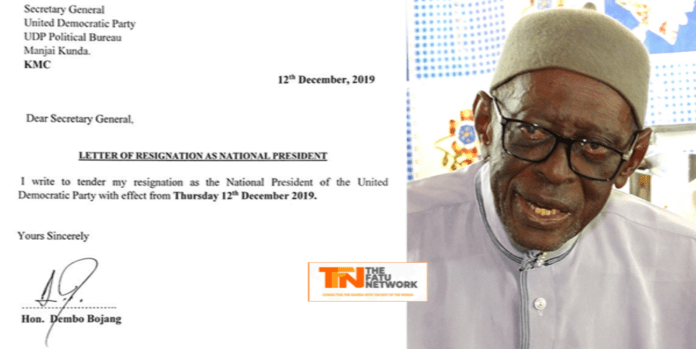 By Lamin Njie
Dembo By-force Bojang has resigned from his post as United Democratic Party's national president.
Mr Bojang resigned today, bringing the curtain down on his long time membership of the country's biggest political party.
It comes days after the religious adviser to President Adama Barrow appeared to have defected to the Barrow camp.
He said at a meeting in Buffer Zone recently: "Adama Barrow said in a previous meeting he was wearing someone's clothes.Now he wants to wear his own.We have girded up for wrestling for Adama. A human being should have a sense of honor.I have come a long way with Adama till he became president.
"I am not going back to the opposition where I had been for 39 years. I shall support Adama Barrow and he will support me to fight for him against the one- meter man whose defeat by Barrow will be spectacular. If a man is taller than you,then you should show him you are shorter and not try to be as tall as him. I know Adama and chose him to run for President and he won. I will support him to win and be president for 15 years."