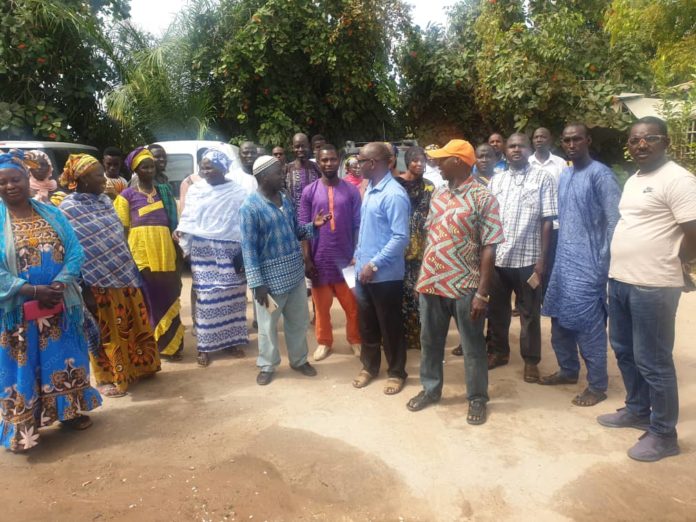 The National People's Party Fass Njaga Choi village chairman has dismissed claims of a major defection involving members of NPP.
A group comprising 'about 50' people from Fass in Lower Nuimi led by Omar Corr on Saturday met GDC leader Mamma Kandeh and told him they are joining. They claimed to be NPP supporters.
NPP top official in Fass Njaga Choi Mustapha Joof told The Fatu Network the claims were exciting laughter in him.
He said: "This is making me laugh. The people saying this should also say what position they held in NPP to the extent they're cross-carpeting. The whole of Lower Nuimi including Fass used to be Mamma Kandeh (GDC).
"So for people to get up and say they are cross-carpeting to a party they have been supporting would amount to paranoia. They do not hold any role in any committee of the party be it village or ward.
"The people that left here were five people. They were to other villages and took people who are Mamma Kandeh [supporters]. They said they are going to Mamma Kandeh to ask him to help Fass with a borehole. They're just saying whatever they like."
NPP top-shot Seedy Njie slammed the reported defection as a 'non-event'.
He said: "It is a non-event. It's false, it's not true. As the National People's Party as we speak… In fact it was few days ago it was announced that the National People's Party is in the process of finalising its executive committees and in fact it was announced that regional executives have been composed across the length and breadth of the country, and we're looking forward to getting the National Executive Committee soon.
"I cannot fathom, and I can't believe that a party that is busy setting up its executive members and we have been who are cross-carpeting from the NPP to the GDC. That is false, that is a child's play. Even a six-year-old child will never believe people will leave the National People's Party to join a dying party.
"The party is already dead. In fact to set the records straight, Omar Corr is a close friend of Modou Bobb. Modou Bobb was the candidate for the Gambia Democratic Congress in 2017 parliamentary elections. Both of them hail from Fass Njaga Choi and they're part of the founding members of Gambia Democratic Congress.
"How can a sober person, a sane person leave National People's Party and say the he is defecting to a dead party? It's not true and I want to say that the people of Fass Njaga Choi are very loyal and committed to the government and the National People's Party and our support base there is second to none. These are political propaganda."