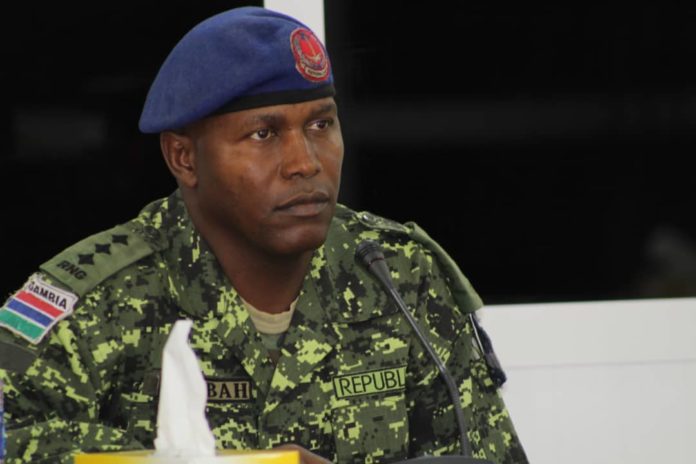 By Lamin Njie
A senior Gambian army officer who broke Omar Jallow's eye socket in 1995 said Tuesday that his level of maturity played a key part in his savage act against the former agriculture minister.
"I want to say that I'm sorry to the people of the country. I want to say that I'm sorry to uncle OJ. I want to say that to everybody in this country whether they are Gambians or they are not Gambians," Captain Bubacarr Bah testifying before the Truth, Reconciliation and Reparations Commission on Tuesday said.
The TRRC is trapped in a cumbersome exercise of unearthing the truth with regard to the human rights violations and abuses which occured in the 22 years rule of former President Yahya Jammeh.
Former agriculture minister Omar Jallow was among a group of civilian officials of the PPP government who were arrested in the aftermath of the July 1994 coup. He was detained at Fajara Barracks were he subjected to torture.
Gambia army captain Bah who is the first perpetrator-victim to testify before the commission said on Tuesday he stood out amid the soldiers who brutalised OJ.
He said: "Of course like every reasonable man should be able to think that time the maturity was not there. I was in my 20s. Because God tells us in rthe Qur'an that when an evil monger or a perverted transgressor comes to you with any news, verify it. But also looking at the situation at that time, I was very young and crazy."
According to Bah, he was misinformed by former army captain Almamo Manneh who told him OJ was working on bringing mercenaries into The Gambia who 'will kill all of us'.
"Because of my age and my level of maturity really I was very gullible and I believed in him. And then that is what led me to join in torturing uncle OJ," Bah said.
Bah also said he was ready to face OJ and apologise to him personally.
"This is unfortunate. I don't know how my family is thinking about me now. I don't know the people of the country looking to this live what are they thinking about me. But I just want to say that we are human beings. We are not perfect. Sometimes when you are misguided and Satan is involved, you may do things that ordinarily you would not have done," he said.