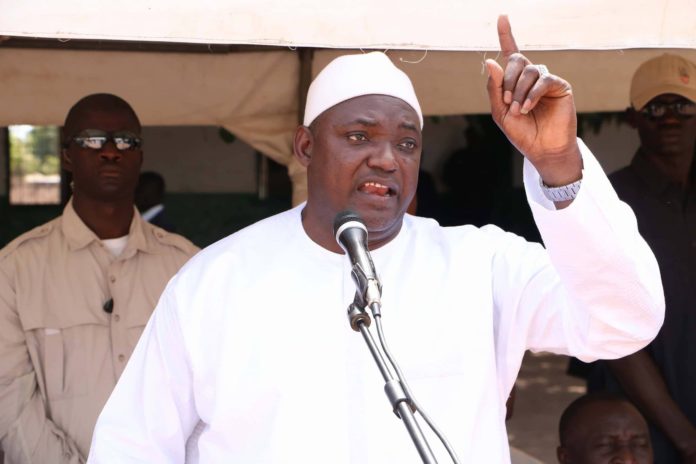 By Lamin Njie
Gambians online have called on President Adama Barrow to change his tone after he compared himself to former President Yahya Jammeh.
Mr Barrow was quoted Sunday as saying that ex-dictator Jammeh was powerful because he had the police, the army and the NIA but he is more powerful than Jammeh as he has the army, the police, the NIA (now SIS) and ECOMIG. Sharp rebuke has since trailed the president's comments.
"[I] am really dumb founded; this is not acceptable. Power belongs only to the people and that is why Jammeh was flushed out. And besides not all were afraid of him; there were many who faced him and Solo and many like him no need to name names as it's a very long list. Mr.President change your tone," Madi Ceesay, the National Assembly Member for Serekunda East wrote on social media network Facebook.
Ex-Jammeh minister Sidi Sanneh, one of the first Gambians to bashed the president, commented: "Barrow has lost his mind."
Coach Pa Samba Jow said: "Jammeh used the NIA to murder Solo Sendeng, torture Amadou Sanneh, Shyngle Nyassi, Sidia Sanyang, Kemesseng Jammeh and countless others and you found nothing wrong to reference the NIA as a sign of strength for Jammeh. President Barrow, you have totally lost your way."
The opposition Gambia Democratic Congress also said in a statement that it was shocked that President Barrow made some 'threatening' remarks that 'he has more power than former President Yahya Jammeh.'
"The GDC therefore regard this statement as repulsive and threatening in the most callous manner by invoking that that ECOMIG forces are here for you to possibly use in your quest to take repressive measures against the Gambian people," it said.