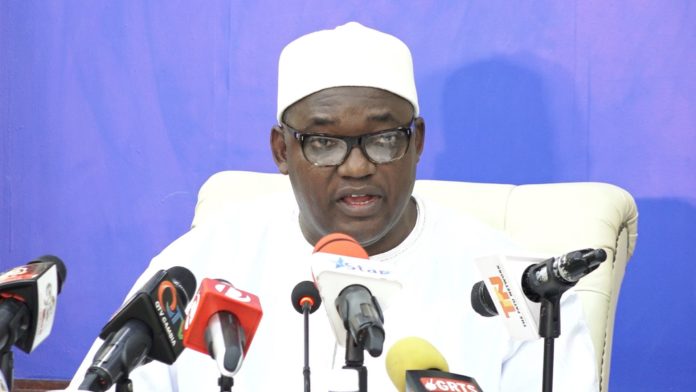 By Lamin Njie
President Adama Barrow has said that his government is engaged in a massive push toward the development of The Gambia.
President Barrow Monday addressed Gambians on the occasion of the Muslim festival of Eidhul Fitr, using the address to hammer home his commitment to a more prosperous Gambia.
Mr Barrow aid: "My government strives for nothing but the progress, prosperity and the development of The Gambia and its people.
"In this pursuit, I stretch out a hand of friendship and invite all citizens, friends, partners and well-wishers to join us in the quest to develop the country and maintain peace and stability.
"I implore all Gambians to live by these ideals in order that we rededicate ourselves to the nation and to the welfare of humanity.
In the 7-minute address aired by GRTS and Paradise TV, Mr Barrow said the ultimate benefits derived from the month of Ramadan "should positively impact ourselves and transform us in all aspects of our being."
"The ethical values of fasting ranging from sincerity, humility, discipline, generosity, uprightness and patience to being of service to God and nation are universal values that influence our economic and socio-political lives. Therefore, as Gambians, we ought to observe such nobles values beyond Ramadan," the president said.
President Barrow also said Gambians must continue to discharge their responsibilities in pursuing their national goals including maintaining a peaceful and stable country, singling out youth involvement as crucial in the national development effort.
He said: "As such, the values of hard work and discipline should characterize our approach to service performance and output.
"To realise our national goals, youth involvement in national development is most crucial and as a result our youths should undertake useful engagements that will bring out the best in them as productive and useful citizens."