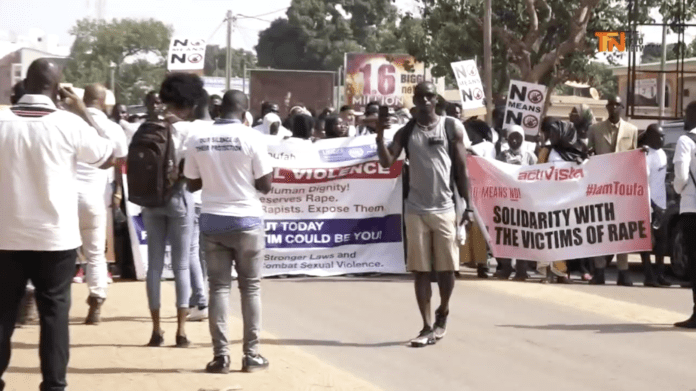 By Lamin Njie
Scores of Gambians have marched through Kairaba Avenue to call for an end to sexual violence in the country.
The protesters chanted slogans and carried signs one of which read 'No Means No' as they marched from Africell to Westfield on Thursday.
"We just want to show our support, show our utter disgust, show that we condemn rape, [and] show that we will stand against it," national assembly member for Banjul South Fatoumatta Njie who took part in the protest told The Fatu Network.
The #IAmToufah protest comes amid sexual violence allegations against former president Yahya Jammeh.
Fatou Jallow alias Toufah shocked the country two weeks ago when she claimed in a New York Times interview former president Jammeh raped her. Days after her claims, the issue of sexual violence made further headlines when three women accused senior Gambia government official Melville Robertson Roberts of sexually assaulting them.
Dr Ismaila Ceesay who also took part in the protest told The Fatu Network the march is to raise awareness on the issue of sexual violence.
"We have to accept that there is a problem in our society, then we can be able to raise awareness and come up with the proper solutions," he added.