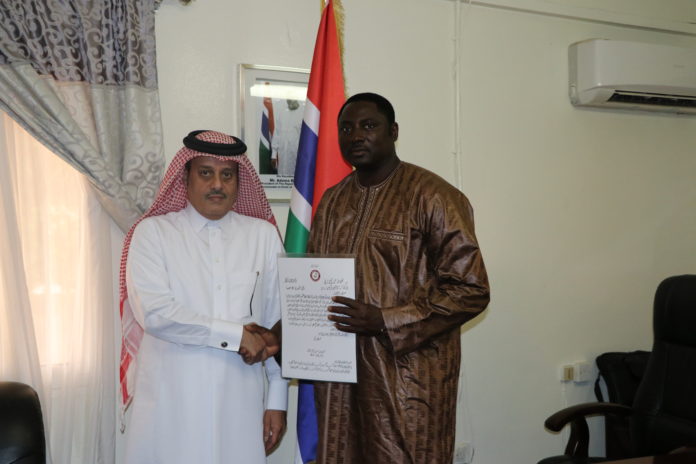 The Ministry of Foreign Affairs, International Cooperation and Gambians Abroad (MoFA), would like to inform the general public that the new Ambassador of the State of Qatar to The Gambia, His Excellency Mr Faisal Fahad Al – Mane, Tuesday July 10th presented copy of his Letter of  Credence to the Honourable Minister of Foreign Affairs, Dr Momodou Tangara, in his office in Banjul.
Ambassador Al – Mane replaces the former Ambassador Mohammed Nasser al – kaabi whose tour of duty ended in June 2018. 
In what has become his first bilateral engagement since his appointment as Foreign Minister, Dr Tangara expressed optimism that Ambassador Al – Mane's term will boost the already deep ties of bilateral cooperation between The Gambia and the State of Qatar, noting that Qatar is a true partner, since the establishment of bilateral cooperation between the countries. 
Ambassador Al – Mane looks forward to finally present his Letter of Credence to His Excellency President Adama Barrow to be followed by deeper engagements on ways to promote cooperation.
In a different engagement, the Ambassador of the People's Republic of China, His Excellency Zhang Jiming, paid a courtesy call to the Honourable Minister and congratulated him on his appointment as Minister of Foreign Affairs.