The Gambia Football Federation (GFF) will spend D3.5M on The Gambia-Algeria game, The Fatu Network has gathered.
The Scorpions will host the Desert Foxes of Algeria this Saturday at the Independence Stadium in Bakau, in the 2019 African Cup of Nations Qualifiers.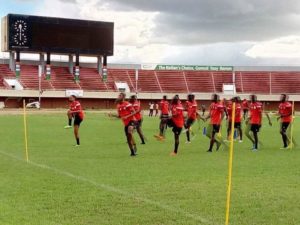 The Gambia is in the same group with Algeria, Benin and Togo. The Scorpions were beaten 1-0 by Benin in their first outing last year in Cotonou.
The D3.5M covers air fares for the foreigner-based players, allowances and lodging among other logistics for the game.
The GFF, as gathered, is solely funding the game in addition to the Coach's monthly salary.
The GFF say tickets for the match is pegged at D1000 for VIP, D100 for covered pavilion and D50 for uncovered pavilion.
The funding of national teams and payment of Coaches' salaries should be the responsibility of the government through the Ministry of Youth and Sports.
However, the Ministry has not been fulfilling this due to what officials say is the lack of adequate funds to support the national teams.
Despite government's absence in funding this game, the new Sports Minister Hadrammeh Sidibeh is said to be giving morale support to the teams. He has been seen at the team's training session interacting with the Coach and players.
Unlike Algeria, Gambia has never qualified for this continental competition.